Edmonton is home to many small businesses and groups of particular importance to the city's 2SLGBTQIA+ community. Whether these businesses are owned and operated by members of Edmonton's dynamic rainbow communities, or simply strong allies who proudly show their support, they all contribute to the diversity in our city!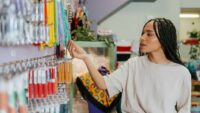 For queer and trans retail needs in Edmonton, look no further than The Quiltbag! This Whyte Avenue shop offers a wide variety of merchandise, from flags and pins to trans gear such as chest binders. They also feature the work of a collective of local artists and entrepreneurs. Plus, they offer online shopping for your convenience and comfort!
The Orlando Corner at Audreys Books not only features a great selection of queer fiction and non-fiction, but also showcases local queer writers. This corner is a nod to Orlando Books: Edmonton's infamous former feminist and queer bookshop. Continuing the championship of marginalized writers, Audreys has been a home and an ally to Edmonton's 2SLGBTQIA+ writers for decades!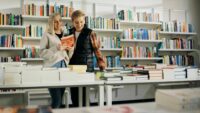 Looking for books and merch? Try the Glass Bookshop, now open in Ritchie, an area filled with amazing small businesses that support and uplift 2SLGBTQIA+ Edmontonians. Glass Bookshop features a wide range of titles from queer, trans, Black, Indigenous, and local writers, as well as some fun merch that makes great gifts for that special queer someone in your life – even if that's you! Glass Bookshop also offers free local delivery.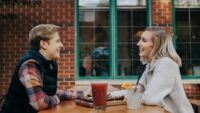 If you're looking for a bite to eat in a queer space after your shopping excursions, don't worry! No matter what side of the river you're on, there are great queer and allied spaces for a quick lunch, leisurely dinner, or cocktails and appies. Northern Chicken, now with two locations, is proudly queer-owned and a strong advocate of worker rights, employee safety, and community involvement. The chicken will knock your socks off! Don't forget to try the Dorito Mac and Cheese on the side. Venues such as Spotlight Cabaret, Campio Brewing, El Cortez Mexican Kitchen & Tequila Bar, and the Starlite Room are also places to check out, as these venues are actively involved in Edmonton's queer community.
Edmonton is seeing an increase in the number of queer events popping up outside traditional queer spaces. Three groups that dominate the Edmonton pop-up queer landscape are the Imperial Sovereign Court of the Wild Rose (ISCWR), Party Queens, and Fruit Loop. The ISCWR has been providing Edmonton with drag entertainment since the late 70s; with multiple shows and fundraisers every month, it's easy to find one of their events. Party Queens is a booking agency and event production company for many of Edmonton's drag performers; from park shows to brunches to private gigs, PQ entertainers are always out and about all over Edmonton!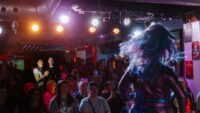 Edmonton's drag scene has never been as widespread or as diverse as it is today! In addition to ISCWR and PQ, you can find drag shows in venues all over the city. Fruit Loop was founded in 2013 and hosts multiple events throughout the year at various venues. These venues feature a line-up of local queer entertainers and DJs and are usually paired with a community partner. Fruit Loop's social media is a great resource for news on what is happening in the Edmonton (and global) 2SLGBTQIA+ communities!
Closely tied to both Fruit Loop and Edmonton's drag scene is Edmonton's theatre community. Whether it's during Edmonton's Fringe Festival or at any other time of the year, spaces like the Grindstone, Metro Cinema at the Garneau, or the recently reopened Roxy Theatre have a history of being champions of queer art and artists in Alberta's Capital City!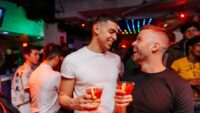 When it comes to an explicitly queer space in Edmonton, there is always Evolution Wonderlounge! Edmonton's year-round gay bar, dance hall, and entertainment venue has been around since 2013. EVO is home of The Sunday Revue: Edmonton's longest running and only weekly drag event. Check out their social media for upcoming events, which include weekend DJs, drag and burlesque shows with frequent guests from Ru Paul's Drag Race. The venue also offers karaoke, trivia, and even the occasional all-ages event!

A recent addition to Edmonton's queer scene is the Pride Corner on Whyte! This Friday evening outdoor dance party began as a way to combat homophobic messaging from a street preacher and has gone on to become a space to gather, especially for queer and trans youth. On May 13, 2022, Pride Corner was made official with a proclamation from the City of Edmonton, with exciting new rainbow street signage installed by The City on the corner of 104 St and Whyte Avenue in Mid-July.
The Pride Centre of Edmonton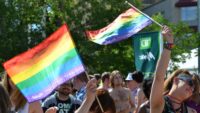 The Pride Centre of Edmonton is an important hub for the community. Not only does it provide drop-in social and support services, but is also a great resource if you're looking for queer and trans friendly businesses, events to support, or professional services. Although the name and direction have changed over the years, the Pride Centre dates back to the early 1970s, and has continued its original mission of connecting queer and trans Edmontonians with their own community!

In Edmonton, you can shop, eat, drink, dance, and party safely in spaces that are progressive and welcoming! This list of places is intended to give you some jumping off spots in your quest to support local and support queer.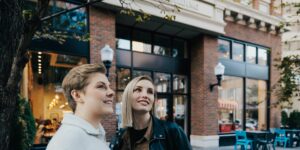 This article is written with 2SLGBTQIA+ travelers in mind. While many places in Edmonton are in fact always welcoming of all regardless of sexual orientation or gender identity, some travelers prefer to know which spaces, events, and venues are explicitly queer.