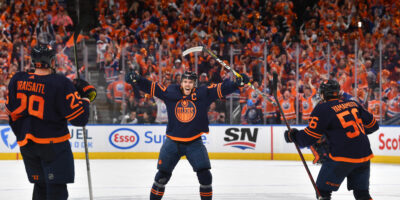 Edmonton Oilers vs Vegas Golden Knights
See the Oilers battle it out in Rogers Place!
November 28, 2023
Time

Street Address

Rogers Place - 10545 106 Ave, Edmonton, Alberta
The NHL playoff season is upon us! Cheer on the Edmonton Oilers while they battle it out with the Vegas Golden Knights at Rogers Place! Connor McDavid in a world-class arena... what more could you ask for? Rogers Place is an arena that fans previously only dreamed about. There's over 18,000 seats with awesome sightlines, spacious concourses for all levels with great food and beverage options and the latest technology including the largest true high definition scoreboard in the NHL.