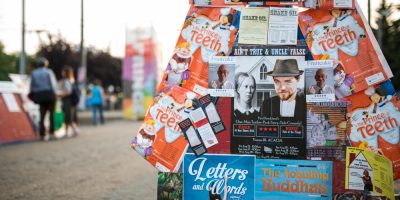 Barvinok at the Westbury Theatre
Pyretic Productions presents Barvinok!
September 21 – September 25, 2022
Time

Street Address

Westbury Theatre, ATB Financial Arts Barns Building - 10330 84 Avenue, Edmonton, Alberta
Pyretic Productions presents Barvinok! This performance is inspired by personal accounts from war-torn Ukraine in 1944, and true stories from the country's current conflict.

Hania's Baba has a secret. A secret she's bringing with her to her grave.
Since moving into the long-term care centre Hania's grandmother has been restless. She's agitated. Something from her past is haunting her. She desperately asks Hania to return to their Ukrainian homeland and seek out a missing piece of their family history. Hania's search brings her to the edge of the ongoing war in Eastern Ukraine.
Through internet-enabled networks, Hania is connected to Pavlo and Misha, two late-20s war veterans who agree to help her navigate the wartorn countryside from Slovyansk, to Pisky, along the front line and into dangerous territory. It is when Hania finally finds her long lost family that she makes a startling discovery, and must confront the truth about her Baba's past.