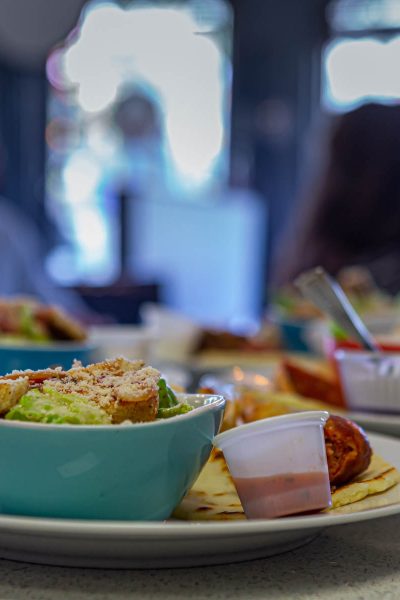 Guide to Dining on Alberta Avenue
One of the best ways to really understand the heartbeat of a city is to experience its cuisine. For authentic and delicious meals off the beaten path, look no further than Edmonton's Alberta Avenue. Boasting a mouthwatering diversity of food options, Alberta Avenue is the perfect place to go when you aren't quite sure what you're craving. This vibrant business and dining district features over 50 Asian, Indian, European, African and South American restaurants in a 25 block span.

From the Vietnamese eateries to Cuban, Portuguese and Columbian hot spots to some of the best Calzone in Canada, Alberta Avenue dining experiences are a vast array of cuisines sending an explosion of senses to your tastebuds. How do you choose when they're all so good?

Also known as 118th Avenue, just north of downtown, this historical and evolving neighbourhood has a welcoming community vibe that you just have to experience to understand. It is also just a hop, skip and a jump away from the Edmonton Expo Centre & the Edmonton Exhibition Lands making it the perfect place to stop in for dinner before a concert or event. If you're not sure what to try, lucky for you, we've gathered a list of restaurants, pubs and coffee shops to get you started. For more amazing Alberta Avenue restaurants and businesses, click here.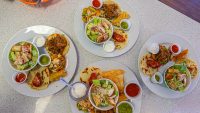 Look no further for incredible Latin flavours! Jasmine Belle Cafe serves up Colombian-Italian fusion, so how could the food not be delicious? Try their creamy lattes paired with an order of fried plantains, or take their legendary breakfast wrap to-go. This family owned and operated business is warm and inviting, delivering great value and memorable meals.
8702 118 Avenue NW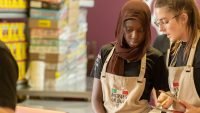 Edmontonians can't say enough about Battista's hand-made, from-scratch calzones. Fillings include mozzarella, Genoa salami, Capocollo ham, basil pesto and so much more. You can even order a sweet variation, filled with decadent Nutella (yum!). Battista's Calzone Company is proud to be Edmonton's original calzone shop and still makes each individual calzone in-house, just like in the old country.
11745 84 Street NW

The Swagat Indian Bar and Bistro
The Swagat Indian Bar and Bistro is the definition of a hidden gem - this restaurant, located right next to a tattoo parlour, is one of the city's best kept secrets. Tender lamb curry, succulent butter chicken, and life-changing daal makhni are all on the menu. Plus, the friendly staff will make you feel right at home. We recommend wearing stretchy pants, you're going to want to try a little bit of everything!
T&D Vietnamese Noodle House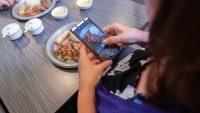 T&D Vietnamese Noodle House was born from a mission to bring authentic Vietnamese cuisine to Edmonton. There really is something for everyone - savoury broths, shareable appetizers and hearty mains round out the menu, which is made with care and locally sourced for the freshest flavours. This family-owned restaurant has a relaxing atmosphere, making it the perfect spot for your next meal.
8405 118 Avenue NW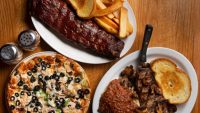 Who doesn't love steak, ribs and pizza? These fan-favourite menu items have been the specialty at Coliseum Steak + Pizza since 1976. Here you'll find perfectly seasoned steaks complete with diamond-shaped grill marks, giant racks of succulent ribs, and pizza's that are made for sharing. Come for the food, stay for the atmosphere - this local landmark is packed with 45 years of nostalgia.
8015 118 Avenue NW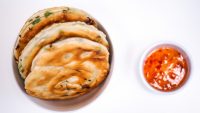 It would be an understatement to say the green onion cakes are cherished by locals - in fact, they are so popular that there was even a movement to make them the official dish of Edmonton! The Green Onion Cake Man himself, Siu To, is actually believed to be the person who first introduced this crispy, onion-filled snack to the city many years ago. Pair your savoury cakes with Szechuan beef, Lemon Chicken, and Chow Mein to complete your meal. Delicious!
9132 118 Avenue NW

You've come to the right place for authentic Indigenous cuisine! Tee Pee Treats is a catering company that serves contemporary meals and bannock dishes made with love. They are also now open for take-out and delivery, so it's easier than ever to sink your teeth into their delightful delicacies. This establishment is 100% Indigenous owned and operated, and they are excited to offer quality meals to customers of all walks of life.
11725 93 Street NW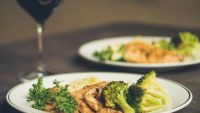 Great food, great drinks, and an amazing patio. What more could you ask for? The Duck Taphouse is relaxed and unpretentious, but that doesn't mean the food isn't top quality. Here you'll find menu items that push the boundaries of 'pub grub' with many bites that you'd be pleased to find at high end restaurants. The staff are friendly, the regulars welcoming, and the drinks are chilled to perfection.
10416 118 Avenue NW
Bonus Stop: Plaza Bowling Co.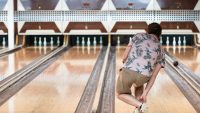 Work off those delicious calories at Plaza Bowl! Here you'll find an old school bowling alley with a lot of character. Hit the lanes while enjoying some tasty local beer and eats by Drift Food Truck - all on the backdrop of a vintage five-pin alley. Their taps are always pouring tasty offerings like hoppy IPAs, fruity saisons and crisp lagers. Beer is delicious. Bowling is fun. Combining the two is right up Plaza Bowling Co.'s alley.
10418 118 Avenue NW