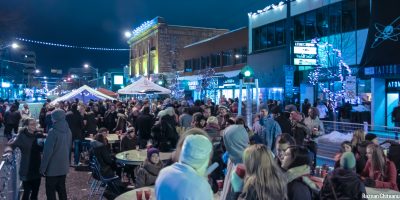 All is Bright Festival
Let it glow along 124th Street!
November 20, 2021
Time

Street Address

124 Street & 108 Avenue NW, Edmonton, Alberta
The 124 Street area invites you to celebrate the coming of the winter season at the annual 'All is Bright' winter festival. The main festival site is located on 124th Street between 107th Ave and 109th Ave, with the main stage in Helen Nolan Park.
Lose yourself in the glow of the lights, bask in the warmth of the Beverage Gardens, and cook some delicious treats over a fire. You'll be swept away while getting to enjoy some of Edmonton's best local businesses and artisans. Head to Helen Nolan Park from 4:00pm - 8:00pm for an evening of music and celebration, and the dramatic light-up ceremony! This is a scorcher of a street party in one of Edmonton's coolest neighbourhoods.