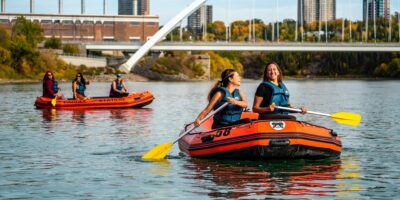 The Paddle Station
Experience the beauty of the North Saskatchewan River.
Contact Information
Street Address

Emily Murphy Park Canoe Launch, Edmonton, Alberta
The water is calling! Renting kayaks and rafts is easy with Paddle Station. They have a dedicated rental station that starts at Emily Murphy Park Canoe Launch - from there, you'll float (and paddle) to the Capilano Boat Launch.

Reconnect with nature, discover a new perspective, or experience a sustainable outdoor activity. In a city where a beautiful river flows from mountain glacier through glowing metropolis, the time has come for everyone to be able to easily access the North Saskatchewan River with ease, comfort, and safety.

Visit their website to book/reserve a kayak or raft today!