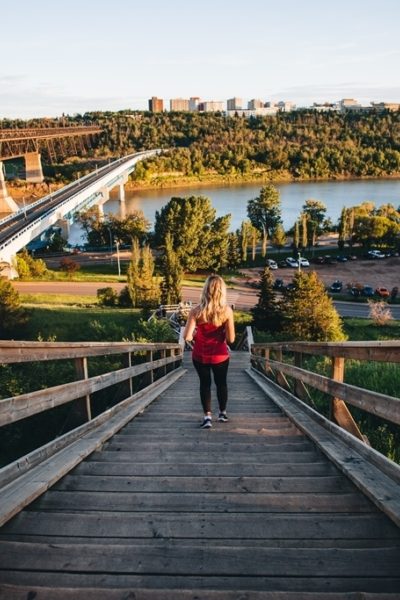 Free Things to Do in Edmonton
Rent, car insurance, groceries, a new tiny outfit for your dog... you've got enough to spend your money on. And hey, you work hard for your paycheck. We get it. Lucky for you, the best things in life really are free. Skip smashing your piggy bank and check out this list of the best things to do in Edmonton for free, or on the cheap!
Step Back in Time without Spending a Dime
Experience a taste of Alberta's history as you explore the Alberta Legislature grounds. Set atop the banks of the North Saskatchewan River, the Alberta Legislature Building is a marvel of beautiful Beaux-Arts architecture and the perfect backdrop for a stroll. Pack a lunch, or stop in at one of Edmonton's legendary downtown restaurants and pick up a meal to-go — with plenty of benches and landscaped areas and benches, the Legislature Grounds are the perfect place for a picturesque picnic!
While not completely free, The Art Gallery of Alberta does offer free admission to minors under the age of 18 and Alberta students with valid identification. The AGA is a Mecca for visual art and architecture lovers. In fact, the exterior of the building is a work of art in itself. The swirling zinc is representative of the Aurora Borealis, a natural light display that can often be seen in Edmonton. Admission must be booked ahead of time through the AGA website.

You can also head to 124th Street and take yourself on a free self-guided art walk. Independent galleries like the Bearclaw Gallery, Scott Gallery and Peter Robertson Gallery will make your inner art lover jump for joy.
Old Strathcona Farmers' Market
The Old Strathcona Farmers Market is a great place to spend a morning or afternoon, even if you don't plan on making a purchase. Fresh produce, handmade jewelry, clothing, art and unique home goods are all worth perusing, and you can also see free entertainment like street performers and live musicians. Plus, this market moves indoors for the chillier months, so you can enjoy it year-round. Be sure to follow the health and safety guidelines put in place to keep everyone safe!
Expansive (not expensive) Urban Parkland
Looking for a backdrop to spice up your Instagram feed? You're in luck. The North Saskatchewan River Valley is perhaps the most picturesque spot in Edmonton, no matter the season. The river valley also has over 150 km of trails just waiting to be explored. These trails are perfect for jogging, cycling, fatbiking or even a casual stroll. Grab a buddy and meander through North America's largest stretch of urban parkland, or cycle through the trees and trails on a mountain bike. Looking for a little adventure? The Commonwealth Walkway App is a free guide to exploring Edmonton's river valley while reading and listening to one of five storylines (Indigenous, History, Family, River & Winter).
Window shop and people watch in Old Strathcona
The bohemian spirit of Whyte Avenue awaits, and you don't have to spend any hard-earned dough to enjoy the vibe. Sift through Blackbyrd Myoozik's collection of vinyls and CDs then pop into unique shops like Vivid Print, or the Junque Cellar. Finish off with a dive into the collection of vintage finds at the Old Strathcona Antique Mall.
November Project can help you get into shape with early morning sweat sessions led by professional athletes. These outdoor workouts happen year-round, no matter the weather. That's right, even in -30C. Anyone can join, just show up in your stretchy pants and get moving. November Project encourages people of all ages, shapes, sizes, and fitness levels to get out of bed and join the tribe.
Note: November project isn't currently up and running due to current health and safety regulations. Stay tuned for relaunch dates!
Get starstruck at The University of Alberta Observatory. It's located on the roof of the Centennial Centre for Interdisciplinary Science (CCIS), the science faculty's shiny new building. Open on Thursday evenings for regular observing hours, you can take in the beauty of the cosmos for free. That's quite a bargain for the vast expanse of celestial wonder that is outer space. Neil Degrasse Tyson would be proud.
Note: The University of Alberta Observatory is currently closed. Stay tuned for reopening dates!