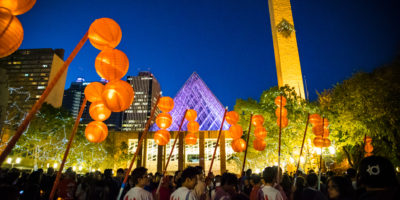 The Arts District
Downtown Edmonton's Hub for Arts & Entertainment.
Contact Information
Street Address

Eastern Quarter of Downtown Edmonton, Alberta
Located within the eastern section of the downtown core, the Arts District celebrates the vibrant Edmonton arts scene in all its different facets. Office and government buildings are intermingled with galleries, theatres, and many great cultural venues including The Citadel Theatre, The Winspear Centre, The Art Gallery of Alberta, The Royal Alberta Museum and more.
Along with numerous historic high-rise buildings and hotels, including The Westin Edmonton and Fairmont Hotel Macdonald, the Arts District is also home to the architectural marvel that is Edmonton City Hall. Its glass pyramid shape is striking at any time of day, and the fountains that frame the building along the north end of Sir Winston Churchill Square are frequented by people looking for a splash or a skate, depending on the season, of course).
Churchill Square, which covers between 102nd and 103rd Avenues and 100th and 99th Streets, serves as the de facto hub for the Arts District. It has previously been the home of numerous annual outdoor festivals and events, including the culinary showcase Taste Of Edmonton, the creative whirlwind of the Edmonton International Street Performers Festival, the two-week summer art and design exhibition known as The Works Festival, and the colourful Caribbean flair of the Cariwest Festival.