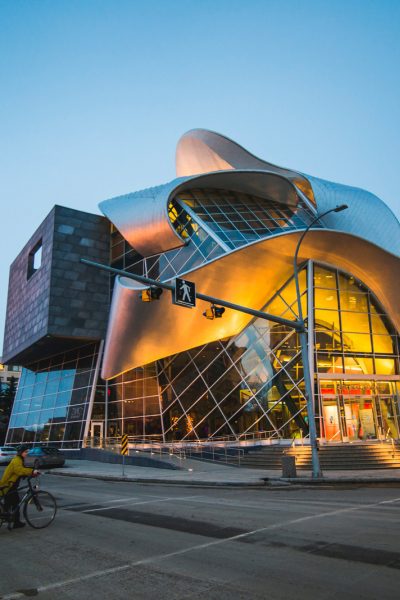 Downtown's Iconic Architecture
Whether you're passionate for design, need some IG-worthy backdrops or just seeking a little structural eye candy, we have you covered. We've rounded up some of central Edmonton's most iconic architecture and historic areas to feast your eyes on.

No matter how you explore, be sure to continue practicing safe spatial distancing, frequent hand washing and following the guidelines put in place to keep everyone safe.
The Fairmont Hotel Macdonald
This 1915 chateau, located at 10065 100 Street, looks as though it's been pulled straight from a fairytale, and is one of the most quintessential buildings in the city. Not only can you stay in one of it's 198 super swanky guestrooms, but it's award-winning restaurant, The Harvest Room, has a river valley facing terrace that is sure to bring out your inner King or Queen. Be prepared, this building may inspire you to bust out Tale As Old As Time at the very sight of it.

Note: the Harvest Room is temporarily closed. Stay tuned for reopening updates.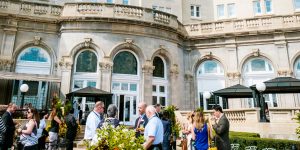 Only a handful of flatiron buildings still exist in Canada and this beauty, found at 9608 Jasper Avenue, is one of them. This triangular building is a popular social snap but also has an interesting history, worthy of its kooky gorgeousness. In 1913, it's design concept was more like a Tetris game, rather than an aesthetic choice, since the architect Arthur W. Cowley needed to squeeze it onto the vacant triangular-shaped lot that was flanked on either side by pre-existing roads. Since then, it's led a multi-faceted life, holding retail shops, boarding for German immigrants, and even a Turkish bathhouse.
City Hall and The Art Gallery of Alberta
These jewels of modern architecture may look as sharp-dressed as our Mayor (Mr. Don Iveson), but there's a little bit of rustic influence to their design as well. The Art Gallery of Alberta was redesigned by Randall Stout in 2010, who drew inspiration for it's swooping metal exterior from our famous winding river valley and the Aurora Borealis. Right beside it, the 1992-built City Hall, on the other hand, features two very large glass pyramids, meant to pay homage to the Rocky Mountains.

Note: City Hall and the Art Gallery of Alberta are temporarily closed to the public. But you can still admire the exterior of these iconic landmarks.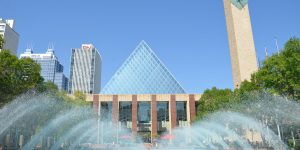 Hark! It's a historic street with good eats! This small T-shaped avenue includes two Chicago commercial style buildings: The McLeod Building (1915) and the newly restored Kelly Ramsey Building (1927). This is also a great spot to grab a bite to eat and sit outside for a refreshing drink on one of the many patios, while you take in the views.

Notable takeaway bites nearby: Woodwork, Craft Beer Market, Bianco, Sherlock Holmes Pub.
This trendy street boasts multiple buildings from the turn of the 20th century and was originally the hub of Edmonton's fur trading industry. Chock-a-block full of brick facades, original hand-painted wall ads, and once-upon-a-time warehouses, and a neon sign museum, it's worth the multiple block stroll to take in its vintage vibes. On the south end (99 Avenue) you'll find a beautiful tree-lined neighbourhood featuring the McKay Avenue School, built in 1905, and on the north end (between Jasper Avenue and 104 Avenue), there is an array of shops, cafes, restaurants, and bars. Plus, where 104 Avenue meets 104 Street, the newest and shiniest of Edmonton's architectural feats, Rogers Place, sits proud.

Tip: We suggest hitting up the outdoor market held on Saturdays if you're visiting between May-October, for lots of local treats like Moonshine Doughnuts or Caramia Caramels.
This little Spanish Revival gem, built in 1935, is an Instagram staple located at 101 Avenue and 108 Street. It's white-washed walls and art nouveau address sign make a great photo backdrop, but it also comes with a quirky history. The core of the building is actually a wood framed house built in 1912 (still visible from the north side) and the 1935 addition was built on to the front of the original facade. A house within a house? Definitely worth a look.
Located at 10800 97 Avenue, on the cusp of the Grandin neighbourhood, this mammoth, Beaux-Arts-style building wouldn't look out of place along a Parisian street. It was built specifically for Alberta's provincial government between 1907 and 1913, after Edmonton was made the capital city in 1906. Strolling the large, landscaped grounds, is a great activity in any season.