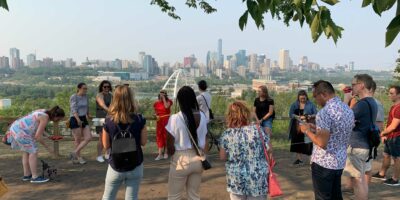 Story City App
Download the Story City App, and head off on an adventure!
Why just be a tourist when you can organize an alien invasion, solve a murder, or survive a magical café taking over shops in Whyte Avenue? Edmonton city streets have been brought to life by local storytellers using the Story City app, which opens a walkable adventure when you're standing in the right location in the city. Take part in a real-life choose your adventure, solve an escape-room-style puzzle trail, or take a historic walking tour through downtown!
Adventures range from free to $10 and take you to the spots in the city you wouldn't find in a guidebook. All the while, you could be a news reporter trying to solve a murder at the Legislature, helping Sherlock solve a mystery at the University of Alberta Botanic Gardens, entering a cyberpunk reimagining of downtown Edmonton, or taking a stroll through Edmonton's queer history.
Download the Story City app here to find your next Edmonton adventure, whether it be winter or summer!