Camping Spots & R.V. Parks in Edmonton
Ah… the feeling of a warm, crackling campfire, the chirps of crickets perched somewhere in the woods and the glow of the aurora borealis above— there's nothing like camping in the prairies. Whether you are looking for a camping retreat in Edmonton, or just a short drive away, there are plenty of places to unroll your sleeping bag, pitch your tent, or park your R.V. and take in the sights and sounds of the wilderness. From yurts and tipis to a full on glamping experience, you dont have to go far to rest and recharge.
Camping at Elk Island Retreat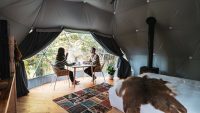 Take a trip to Elk Island Retreat, located 45 minutes east of Edmonton and 5 minutes from Elk Island National Park. This private campground features a variety of accommodation options from tipis, geo domes, trapper cabins, yurts and 36 full-service RV sites. The season begins mid-March and is open until early November. Elk Island Retreat is the perfect place to unwind and relax before heading to Elk Island National Park for some wildlife viewing!
Rainbow Valley Campground
Pitch a tent, or park your R.V. and unroll your sleeping bag at Rainbow Valley Campground. The only camping facility located within the city, it's just a stone's throw away from the North Saskatchewan River, and steps away from the Snow Valley Aerial Park. Adventure seekers can see Edmonton from a bird's eye view as they climb to great heights in Snow Valley's massive treehouse cross jungle gym, or trek through the river valleys extensive trail system. After a long day of high-adrenaline fun, you'll fall asleep under the trees, with the sounds of the Whitemud Creek lulling you to sleep. You might even see a beaver building up his dam!
Winter camping is available for those who want to conquer crisp winter conditions.
A beautiful site located on the banks of the North Saskatchewan River, Devon Lions Campground offers plenty of opportunity for outdoor activities. Pull out the golf clubs and play a round at Devon Golf & Conference Centre, or hop in a canoe and paddle down the river. Overnight guests can pick from over 100 spots ranging from unserviced sites to full R.V. hookups. And, at just 15 minutes from Edmonton it's an easy overnight nature escape.
Glowing Embers R.V. Park and Travel Centre
Get away from it all, without leaving the city! Glowing Embers R.V. Park and Travel Centre is the perfect place to hang your hat (and park your R.V.) while in Edmonton— at only 8 minutes away from West Edmonton Mall and many beautiful golf courses. This is the largest R.V. park and camping site in the area; the site can cater up to 288 individual sites, each equipped with full service.
Take a deep breath, unwind, and connect with nature.
Shakers Acres R.V. Park & Campground
Shakers Acres is conveniently located right at Edmonton's doorstep, so you can explore the big city while unwinding and connecting with nature at the same time. They currently have 163 sites in the campground that can accommodate R.V.'s, motor homes, and campers of all sizes. Approximately three quarters of the sites have full hook-ups (power, water and sewer), while a quarter of the sites have power and water.
St. Albert Kinsmen R.V. Park
Come and enjoy scenic vistas and tranquility at the St. Albert Kinsmen R.V. Park, only 15 minutes from West Edmonton Mall. Here you'll find many cycling/walking trails as well as wildlife viewing areas along Red Willow Park and Lois Hole Centennial Provincial Park. Park your R.V. in one of the 93 full-service stalls, and take in the city like never before.
You'll find the perfect slice of wilderness just a half hour from Edmonton's bright lights at Elk Island National Park. Whether you're new to camping or simply want to avoid the hassle of buying and setting up your own gear, Elk Island National Park offers you the luxury of calling one of their Tipis, Cabins, or oTENTiks home. You also have the option of parking your R.V. in one of the three camping sites around the park. Besides the possibility of seeing a bison, and the endless opportunities for outdoor adventure that Elk Island provides (ahem, Sandy Beach and Astotin Lake), one of the best parts of the park is that it falls within the Beaver Hills Dark Sky Preserve. This means optimal conditions for seeking out sparkling star clusters, nebulae and galaxies, and even catching a glimpse of the bright, pulsating chorus of lights we know as aurora borealis.