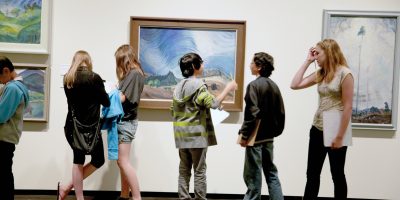 Gallery Walk
A 12-block hub of inspiration.
Zigzag through a 12-block hub of inspiration on a gallery walk around 124 Street District near Edmonton's downtown core. Commune with your inner artist on a gallery prowl meeting local creators and getting to know the Alberta and Canadian art scene.
The Gallery Walk kicked off in 1981 to promote the artistic community and there are now two annual guided walks – in spring and fall – but self-touring is easy. Visit the Bearclaw Gallery, Bugera Matheson Gallery, Peter Robertson Gallery, Scott Gallery, Lotus Art Gallery and more!