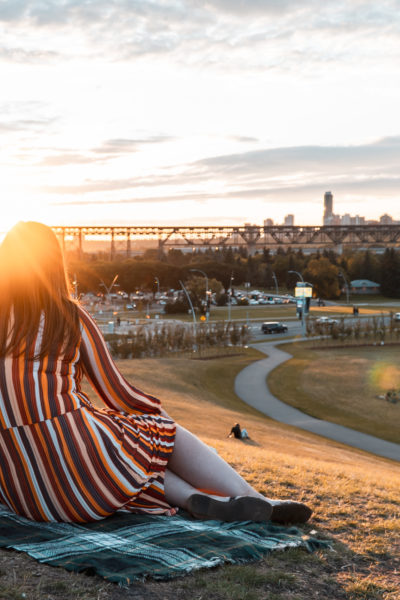 Spring Date Night Ideas in Edmonton
Birds do it, bees do it - heck - even educated flees do it! Spring has sprung and it's time to fall in love. Treat your partner to a date to end all dates in Edmonton. We've gathered a list of our top swoon-worthy spots to woo your one and only this season - from physically distant outdoor adventures to virtual experiences that you can try with that special member of your household. Clear your calendar, turn the lights down low and get ready for l'amour!

Love may be in the air, but please make sure you continue practicing safe physical distancing and following the public health guidelines put in place to keep everyone safe!
When you're alone and life is making you lonely you can always go - downtown. But this time, you've got a date! Be on the lookout as downtown Edmonton defrosts to reveal immersive cultural exhibits, extended outdoor patios, giant art installations and so much more at Downtown Spark. Arts District Animation, Root 107 and Winter Birds are all on the docket this spring. Check them out before they become "the one that got away"!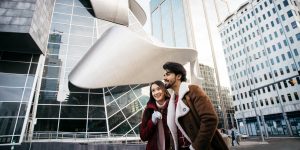 Tiptoe through the Tulips
Hold (sanitized) hands with your sweetie as you explore the flora and fauna of Edmonton's river valley with the help of the Commonwealth Walkway App. Using the downloadable app, you can discover this expansive system of trails through one of five storylines. Learn little-known facts about Edmonton and its vibrant story while satisfying your thirst for adventure on this self-guided tour! Plan your walk to line-up with the sunset (usually around or after 8:30pm during the springtime) and you've got the ultimate dreamy backdrop for your date.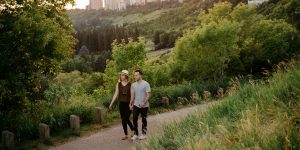 Pop the popcorn, open a bottle of wine and get ready to laugh! Rapid Fire Theatre is going Off Script & Online offering a selection of free digital improv shows, live-streamed through their YouTube channel. Improv and chill... that's the saying, right?
Bonus: If you're not actually as funny as your Tinder profile may lead people to believe, Rapid Fire Theatre's virtual improv classes can help! Tickle your funny bone with Online Improv for Beginners - a great way to challenge yourself, build confidence, break out of your comfort zone, and improve your communication skills! And just like that, you're a true total package.
We know your type - you love romance almost as much as you love a good deal. Make a meal of date night and sign-up for the Explore Edmonton Downtown Dining Pass, a mobile savings passport that includes many to-go deals at the city's best local watering holes. Yum!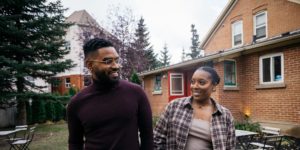 Explore Indigenous Landmarks and Spaces
Amiskwaciy Waskahikan, also known as Edmonton, is home to many breathtaking Indigenous landmarks and spaces that are perfect for visiting during a dreamy daytime outing. Connect with the city's past, present and future while taking in everything from outdoor art installations to beautiful, serene gardens. Check out Mackenzie Brown's guide to discovering these remarkable spaces and start exploring!
The Birds, the Bees & the Otters
The Edmonton Valley Zoo is bursting with romance. Did you know that otters hold hands to prevent themselves from floating away in the swirling water as they sleep? If that doesn't make your heart grow three sizes, we don't know what will. The zoo is reopening for outdoor experiences this spring so you can take your date to visit the many creatures that call their al fresco spaces home. Remember - advanced booking is required as this iconic attraction is operating at a limited capacity.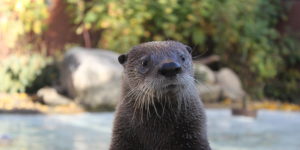 Turn up the Heat in the Kitchen
Why just taste the flavours of Edmonton when you can experience them? Prepare mouthwatering meals as a couple with Get Cooking's online cooking classes or order an entire at-home meal from KITCHEN by Brad Smoliak. Chef Table Living also offers Chef's Kit Boxes and Cocktail Kit Boxes that include 30-minute online videos from local culinary experts taking you through how to make their inspired dish or libation. It's the perfect activity for those who love to wine and dine almost as much as they love each other!