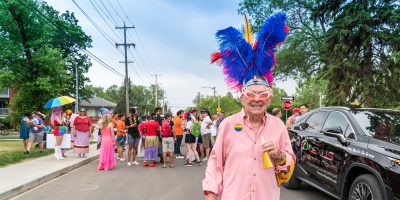 Fruit Loop's Augmented Reality Pride Tour
Download the map and start your journey!
Want to learn about Edmonton's 2SLGBTQ+ community? The Fruit Loop Society of Alberta has created an augmented reality tour that allows you to discover the past, present, and future of Edmonton's diverse community. This self-guided tour takes you across the downtown core, from Beaver Hills Park ᐊᒥᐢᑿᒌᐚᐢᑲᐦᐃᑲᐣ (Amiskwacîwâskahikan) to the Neon Sign Museum. There are 10 locations in total featuring over 50 performers and speakers. You'll discover drag performances, speakers, dance parties, and more!
Embarking on the tour is easy. Simply print out the tour map from Fruit Loop's website and use your phone to scan the QR code at each location. The tour is a great way to learn about Edmonton's 2SLGBTQ+ history while exploring the city and getting some fresh air.
Happy Pride, Edmonton!