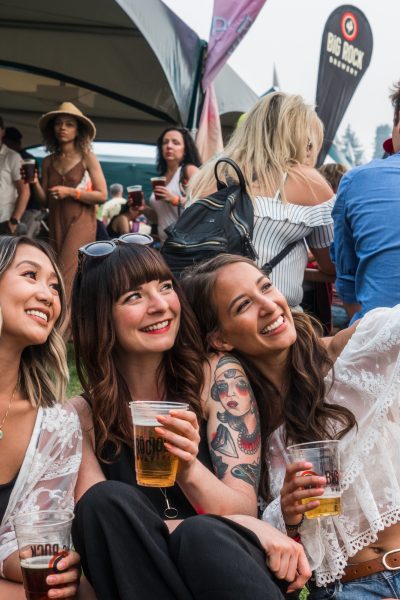 Things to Do in Edmonton in August
If you thought July was jam packed with fun, you ain't seen nothin' yet. This month brings more festivals, more music, more food, and even more things to do in Edmonton. Legendary festivals like the International Fringe Theatre Festival, Folk Music Festival, Heritage Festival, and Cariwest are just the beginning. Don't blink, or you'll miss out!
Edmonton Heritage Festival
From the flavours of Fiji, to a peek at Pakistan, travel around the world in one weekend at the Edmonton Heritage Festival— no passport required. See dancing from Liberia, taste food from the Ukraine, and witness the artwork of Japan all in one place. Hawrelak Park will transform into a mingling of more than 90 nations and 70 pavilions which will leave you with a better understanding and appreciation for our country's remarkable diversity.
August 3-5


Edmonton Folk Music Festival
Come to the Edmonton Folk Music Festival for four days of incredible music right in the heart of the city. This year's line up includes amazing artists like Hozier, Blue Rodeo, Brandi Carlile, and more! Not only is the music great at Folk Fest, the atmosphere is electric, the setting is picturesque, and the food is to die for. So grab your blanket or low-rise chair and park yourself for what's bound to be an epic weekend.
August 8-11


Cariwest Caribbean Arts Festival
Grab your favourite costume, gather your friends and take a deep breath – Animethon is returning to the Edmonton Convention Centre this August! Animethon 26 is a full 3-day summer festival for fans of anime, gaming, and Japanese pop-culture. Check out the amazing cosplay, unique artists, vendors and more!


Get away from it all inside the city by exploring Edmonton's river valley during EPCOR RiverFest. The weekend will be full of activities that help you celebrate everything there is to do in the river valley and surrounding area. Each day features a different variety of outdoor activities like cycling, hiking, and paddling. Come down and #baskonthesask and experience the largest stretch of urban parkland in North America!
August 10


2019 Canadian Ultimate Championships
So what is Ultimate anyway? Well, its much more than a casual game of picnic Frisbee. The objective of this exhilarating sport is for a team to pass the disc from player to player, all the way up the field, and catch the disc in their end-zone, which scores a point. Edmonton will host the Junior divisions, Women's, Open, Women's masters and Open master's division. Don't miss this fast-paced event when it swoops into town!
August 11-18


Edmonton International Fringe Theatre Festival
North America's biggest and oldest Fringe Festival is back for another year to rock your world. Over 1,600 local, national, and international performers take over Edmonton in the theatrical display of the summer. As you're weaving in and out of shows, you'll find magicians, sword swallowers, buskers, beat boxers and many more performing on the streets... plus a great assortment of tasty treats like green onion cakes and mini doughnuts.
August 15-25


Edmonton Rock Music Festival
Make your way to Hawrelak Park to enjoy some of the best acts in local and Canadian music. Sing along to your favourite songs, hang out with friends, take in the fresh air at the outdoor amphitheatre and crowd surf to awesome acts like Radioactive, The Odds, Sloan, One Night Stan and more. Rock on!
August 16-17


On your marks, get set…GO! The starting gun goes off, adrenaline is pumping and the participants charge ahead hoping to qualify for the Boston Marathon or complete their very first 10k. The Servus Edmonton Marathon is taking place from August 17-18 and takes runners on a route through the heart of downtown Edmonton. Cheer on participants or lace up your running shoes and join in on the race yourself.
August 17-18


Put the pedal to the metal and work up an appetite on a guided biking experience that makes several pit-stops at various local eateries as you cruise through town. Get a summer sampling of Edmonton's amazing markets, chocolatiers, historical buildings, breweries and much more. Enjoy different samples of meals (included in the tour price) from 4 to 6 locations, while learning the stories and history of the local cuisine. That's one stellar way to get motivated to do a little exercise!


The Edmonton Blues Festival is heating up this August with 16 acts over three days and more than enough amazing music to go around. This year features Grammy, Blues Music and Juno award winners such as Curtis Salgado Band, Sonny Landreth, Charlie Musselwhite, The Proven Ones, Lil Jimmy Reed and his Band, and more!
August 23-25


Fridays at the Legislature
Fridays at the Legislature is a free outdoor concert series held each week at Capital Plaza on the Alberta Legislature Grounds. It features live performances by local artists from an eclectic array of genres from Canadian folk to contemporary rock. Now in its sixth year, Fridays at the Legislature has become a summertime staple for all ages to enjoy!