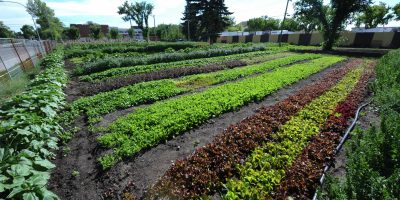 Edmonton Urban Farm
Discover a 2-acre farm in the heart of Alberta's capital!
Contact Information
Street Address

11312 79 St NW, Edmonton, Alberta
The Edmonton Urban Farm is a unique place for growing food and learning about growing food. It increases both food security and food literacy in one shot! Explore Edmonton manages the farm while almost 100 people in twenty independent groups farm it. The amazing gardens form an outdoor classroom for Explore Edmonton educational programs, like Open Farm Days. Are you a teacher looking to register your class for a visit? Check out the Urban Farm School and book your field trip!

In 2019, 5000 people visited Edmonton Urban Farm. Visitors met farmers, tasted honey, fed a laying hen, explored a vegetable labyrinth, checked out the worm compost, smelled herbs, ate edible flowers, examined bee hotels, and more.

Drop-in hours are Saturdays, 10:00am-4:00pm (May 21-October 8, 2022). You can also visit the farm during Open Farm Day on Saturday, August 13, 2022.