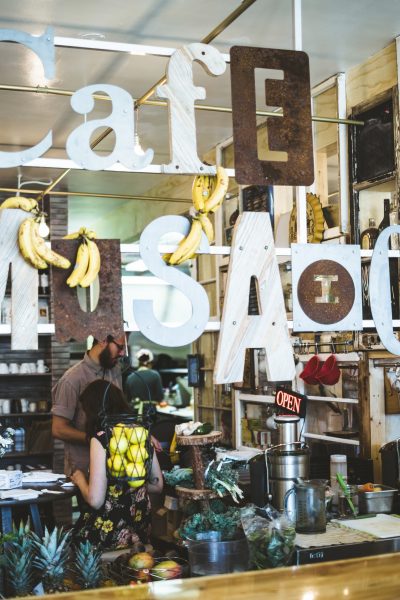 Best Vegetarian and Vegan Restaurants in Edmonton
Since the beginning of time, vegans and vegetarians have been forced to choose from various strands of greenery from the menus side-column, or to snack on the celery sticks that remain next to a pile of previously masticated chicken wings. But a new dawn is rising in Edmonton— where veggie-lovers have a multitude of restaurants (and menu items) to choose from. We've gathered up our favourite vegetarian and vegan restaurants for brunch, dinner and every meal in between.

Can't decide where to eat? Lettuce help you.
It's easy to accidentally walk past this hole in the wall on Whyte Avenue, but that doesn't mean that Café Mosaics isn't a must-visit for herbivores and omnivores alike. They use whole foods from responsible farms, and offer up vegetarian and vegan menu items like Toona Wonton Tacos with Avocado Chili Lime. Plus, their brunch game is strong.
Must Try: Against All Grain Benny, or any of the breakfast eats!
The new cozy Moth Café in The Quarters isn't just a convenient place to pick up a great cup of joe. Here you'll find vegan treats and savoury eats in a beautifully decorated space, complete with abundant natural light spilling in from the windows. They're open for breakfast, lunch, and dinner too, making this a go-to hang-out anytime of day.
Must Try: Raw Key-Lime Cheesecake
An amazing selection of local brews and vegan/vegetarian eats all in one place? Yes, dreams really do come true. Arcadia Bar prides itself on only serving Alberta craft beer, and they have an awesome selection of vegetarian and vegan pizzas too. The chill vibes make this the perfect place to meet up with friends, and reminisce about the good ol' days.
Must Try: John Candy Canadian Coconut Bacon Pizza + Red Bisonstar Fall White IPA

Meat eaters: The Buckingham will surprise you. This humble haunt on Whyte Avenue offers the comfort of a local pub, and turns into a great time later at night (if you like to dance, you'll like it here). Plus, their food is top notch. From vegan "chicken wings" with a sweet and sticky sauce, to a "corn dog" with a light and crispy batter, The Buck does it right. With eats brought to you by the team at Sailin' On vegan food truck, we aren't surprised.
Must Try: Corn Dog & Fries
The food at Padmanadi is a blend of Indonesian, Chinese, Thai, and Indian cuisine—and boy, is it delicious. Here you'll find menu items like sweet and sour soup, ginger "beef", and spicy coconut eggplant, which bring comfort food to the next level. They even have a vegan brunch menu available on Saturdays and Sundays until 2:00pm.
Must Try: Ginger "beef"
Die Pie on Jasper Avenue is the first of its kind in Alberta, and doesn't disappoint on the flavour front. Fresh ingredients and an impressive variety of artisan vegan cheeses make Die Pie a real stand-out. In addition to their pizza pies, you can order vegan cheese boards so you can sample their plant-based raw gorgonzola, hemp havarti, truffle brie and more. Nom Nom.
Must Try: Macaroni & Cheese Pizza
Kb&co's plant-based menu is free of meat, dairy, egg, and soy products, and they commit to using all organic and local ingredients whenever possible. Stay for a bite in the bright, comfortable and inviting space, or take any menu item to go. Kb&co was born out of the desire to provide a casual, but "conscious eats" cafe for eaters of all kinds.
Must Try: The Chipotle Taco Salad
Sweet Pea Cafe and Playhouse
Sweet Pea Cafe and Playhouse serves up plant-based recipes that are created and sourced in the most sustainable way possible – plus, they are pretty darn tasty! The cafe's atmosphere is perfect for coffee dates, getting work done, business meetings, family fun or quiet time. The attached playhouse is adorable, and will keep the little ones busy (be sure to book in advance!).

Must Try: Roasted Veg with Balsamic Drizzle Flatbread