Thanks to Alberta's abundant farming industry, local distilleries are able to source top-quality, locally-grown grains for their spirits—and the local flavour doesn't end with the base. The down-to-earth, passionate, creative teams behind the local distilleries are producing unique products and flavour profiles. With small-batch distilling becoming legal in Alberta just a few years ago, there's plenty of innovation and creativity from startup distilleries.

As your favourite distilleries begin to reopen to the public, be sure to continue practicing safe spatial distancing, frequent hand washing and following the guidelines put in place to keep everyone safe! We also recommend checking the individual business' website for updates on dine-in availability, curbside pick-up and more.
When the infamous music venue Baby Seal Club closed its doors, Adam Smith was determined to give the tiny 740 sq ft space in the popular neighbourhood of Old Strathcona a new life. Inspired by small distilleries in Mexico, Adam opened Strathcona Spirits—the smallest distillery in North America. Adam and his team distill two gins and a vodka in a hybrid still that was custom made in the Ozark Mountains, perhaps the capital of moonshining.
Number of Products: 3 + Limited Editions
Most Unique: Single Grain Vodka. If you think vodka is boring, give this a sip. Made with hard red wheat grown just 20 km from the distillery, this vodka has a creamy, vanilla-like flavour profile that rivals the neutral taste of most vodkas.
Most Popular: Seaberry Gin.
Local Flavours: The Seaberry Gin is made with juniper berries picked in Alberta's badlands near the Red Deer River, and with seaberries picked throughout Edmonton. On some property near Pigeon Lake, Alberta, Smith is growing more plants and botanicals to use in their products—right now some wormwood is growing to make Absinthe from.
David Scade had been moonshining at home as a hobby, starting with an apple pie liqueur that would eventually become Black Diamond Distillery's first product. His now-wife, Andrea, also started to take an interest in moonshining, and for their wedding in 2016 they made their own spirits. Encouraged by feedback from friends and family, the two of them opened the distillery in February 2018, named after Andrea's black diamond engagement ring.
Number of Products: 8 + Seasonals
Most Unique: The Limoncello. Limoncello is very labour intensive to make, and market research told them it wasn't a good idea to compete with Italian brands. So, at first, the Scades made Limoncello exclusively for Vivo restaurants in Edmonton. After many requests from customers, Limoncello is now available exclusively at the distillery and markets.
Most Popular: Apple Pie Liqueur, Tart Cherry Liqueur and Early Grey Vodka.
Local Flavours: The Coffee Liqueur is made from cold brew made with locally-roasted coffee beans from Columbian Coffee Bar and Roastery.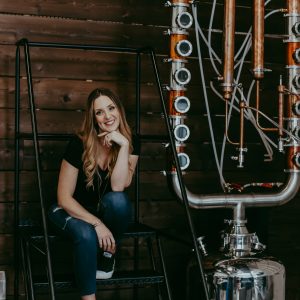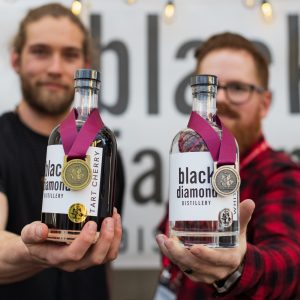 A year after completing his degree in dental hygiene, Geoff Stewart knew he was in the wrong industry. He wanted to do something more creative, so he worked as a tattoo artist. When small-batch distilling was about to become legal in Alberta, he decided to flex his creativity by experimenting with a variety of ingredients to create unique spirits. With unique oil rig-shaped bottles and exclusively local ingredients, these spirits are a true taste of Alberta.
Number of Products: 50 and growing
Most Unique: Sugar Beet Brum, a rum-type liquor made from sugar beets. Committed to using only local ingredients, Rig Hand can't create a true "rum" made from sugar cane, which doesn't grow in Canada. Instead, Geoff stepped up to the challenge of using sugar beets, which have a very different chemistry than sugar cane, and are much harder to work with. Only two other distilleries in the world have a "brum"—Montana and Colorado.
Most Popular: Double Double Cream Liqueur (a nod to a popular order at Canadian coffee chain Tim Hortons) and Garlic Vodka (to use in Caesars, a favourite Canadian cocktail).
Local Flavours: Committed to supporting local, every single ingredient in Rig Hand's products is sourced within the province, and every single label and wax seal is applied by hand by one of its 23 employees. A gin made with the flowers from locally-grown fava beans is very unique.
After husband and wife Kris and Shayna Hansen sold their welding company, opening a distillery wasn't even on their radar as Kris returned to school for engineering and Shayna prepared to study nursing. But while on vacation they discovered how much they enjoyed touring distilleries, breweries, and wineries, and were inspired by the moonshining that Kris and his family had done for four generations. The distillery features one of the best cocktail bars in the city with an extensive menu of creative, expertly-made craft cocktails that showcase Hansen products.
Most Unique: End of the Line Moonshine, a simple, clean spirit based on family history and tradition.
Most Popular: Morning Glory Cream Liqueur and Purple Cow Cream Liqueur.
Local Flavours: The Purple Cow Cream Liqueur is made with Saskatoon berries, a very plentiful fruit in Alberta. Shayna had made some as a test, and after two batches sold out instantly, they decided to make it a staple product. The berries are sourced locally, as are the sour cherries in the Cherry Rye.