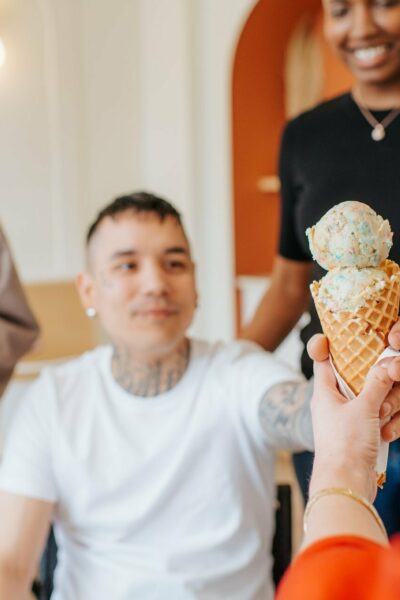 Growing with Pride: Edmonton's 2SLGBTQIA+ Businesses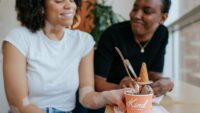 The variety of retailers, shops and services proudly owned by the queer community continue to reach to all corners of the city! Edmonton has accepted diversity for decades, and the beauty of that when it comes to doing business here is that all are welcome, and all have a seat at the table. Listings of 2SLGBTQIA+ specific companies, services and brands are found on websites like Queer YEG. Loud and proud gay and lesbian-owned and operated shops like Doughnut Party and Kind Ice Cream have become destinations for some of the best sweet treats in the city.
"It means a lot to us that we've built what I hope is a comfortable space for our staff and our customers," says Simon Underwood, owner of Doughnut Party. "Our shop motto is "everyone's invited" and we feel incredibly proud that we've created a welcoming space and a workplace where our staff, no matter who they are or how they identify, can feel comfortable."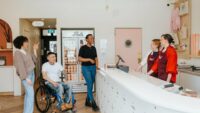 Paula Shyba from Kind Ice Cream notices that "businesses seem more interested in sharing that they're queer-owned, knowing that there are so many benefits to publicly demonstrating their place in and support of the 2SLGBTQIA+ community." Shyba and partner Nicole are a lesbian married couple, who with Nicole's sister Candyce, set up shop in 2019 with their first location in the Ritchie neighbourhood. "We had some trepidation about opening an ice cream shop in a city with such a cold climate, but in the very first week we realized that things were going to be much busier than we anticipated. We've since grown from our tiny back-of-shop kitchen to a larger production space and our second and third locations in Highlands and Oliver. We have to pinch ourselves often and are incredibly grateful for the support we've received."
Underwood tells us that Doughnut Party started as a home-based, farmer's market business while he was working as a librarian and partner Matthew was working as a teacher. "We brought doughnuts to the first ever 124 Grand Market and sold out in minutes and have been making doughnuts ever since!" The couple opened their first storefront in 2017, then a second shop in 2020 in Ritchie, and their third shop in Old Strathcona in 2023.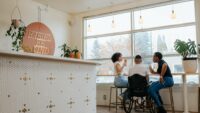 Like any business however, it's not all sunshine and roses, or in these cases double scoops and rainbow sprinkles. Paula explains that "the most obvious challenge to owning a 2SLGBTQIA+ business and speaking so openly about being one is that there are undoubtedly some individuals who choose not to visit our shop because of it. Thankfully, this seems to be a mostly quiet minority, and we're okay with that."
"I feel the same way about owning a 2SLGBTQIA+ in Edmonton as I do about being a 2SLGBTQIA+ person in Edmonton - sometimes you can just feel a little bit isolated and alone," adds Underwood. "We're fortunate to have connected with other queer businesses, and we know there's a great queer community here in town. We sometimes hesitate to fully put ourselves out there in the story of our brand, or to talk really honestly about ourselves as queer and as queer business owners, and I think that comes from a lifetime of always being a little bit worried about what other people might think. Moving past that is kind of lifelong work, that we're both getting better at. It feels cool to have created this big gay doughnut shop in Edmonton, and to have had so many people respond so positively to it."