Every June, we celebrate Pride Month across Canada. Edmonton has a lengthy history with drag in the 2SLGBTQIA+ community, and the art form has grown to the point where it's considered accessible and mainstream, blowing the doors open to the entire city! It's indisputable that world class performer and media personality Ru Paul has planted the term drag firmly into our vernacular and elevated the art to a reach-for-the-stars level. This joyful, often hilarious, and always inclusive mode of entertainment is ours to enjoy year-round everywhere, including Edmonton.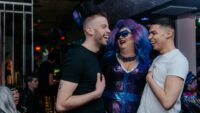 Edmonton's drag history goes back to venues like the Pegasus Club, Club 70, and Flashback in the 1970s, where stylized shows honoured both the Hollywood movie musical and New York's splashiest Broadway shows. It was during those years that the Imperial Sovereign Court of the Wild Rose was formed and continues to this day, a significant Canadian chapter in the 2SLGBTQIA+ community.
Protecting and fostering drag is more important and timelier than ever in today's cultural climate. Edmonton's own Pepper, a finalist on Out TV's Call Me Mother, is proud to champion up-and-coming local talent while performing for twenty years and counting. "I am very involved in my drag community," she says. "I'm trying to educate and inspire during shows. Making sure my drag is on point. Showing the multiple skill required to pull this art form off."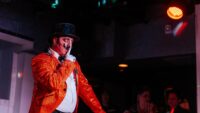 Where does one catch a drag show in town? "The beauty of Edmonton is that drag is truly all over," Pepper says. "It's not just at one venue. Drag brunches, story time, and late-night shows are happening all over. I'm going to be performing on a riverboat soon," she laughs. "Most local performers have links to shows connected to their social media." The Edmonton Drag Festival is also taking place on June 17 and is a fun way to immerse ourselves as an ally to, or member of the 2SLGBTQIA+ community. Celebrating its first year as a festival, our support is important to ensure this becomes an annual event.
"With drag being in the pop culture forefront, it has expanded into so many new forms of expression," Pepper says. "Drag used to be something in the shadows, only enjoyed by a discriminated community. Therefore, it held many misconceptions of what it was. Now it's an art form that's respected and revered, and the general public is becoming educated on this multifaceted craft. Like any art it will keep growing, evolving, and expanding as long as we keep representing and sharing the pure joy that it is."