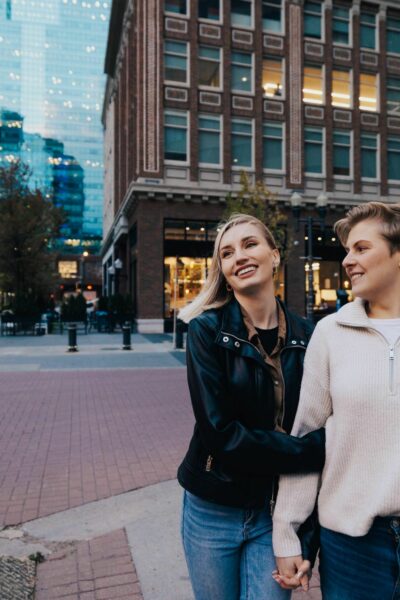 Tips for 2SLGBTQIA+ Travelers
When thinking of 2SLGBTQIA+ travel destinations, your mind might go first to places like San Francisco, New York, London, Sydney... but Edmonton has a welcoming, friendly, and fun queer community! Learn more about where to go and what to do to make the most of Edmonton as your rainbow destination.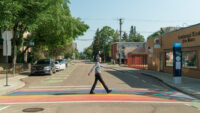 Arriving in the YEG airport instantly gives sense of the city's inclusive nature, by the massive progressive pride flag painted in the center of the terminal. This welcome follows throughout your stay in Alberta's Capital City – you can find more of these painted progressive flags in two areas you're going to want to visit: Old Strathcona, centered around Whyte Avenue, and Edmonton's downtown, located just across the river!
The central neighborhood of Oliver has long had the reputation of being Edmonton's "gaybourhood," and is found just west of the downtown core. Oliver is an area that many of Edmonton's queer and trans residents call home. It's nearby downtown that hosts Edmonton's premiere gay bar: Evolution Wonderlounge.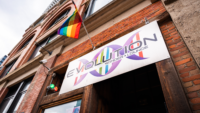 Evolution Wonderlounge is a dance club and show bar located in Edmonton's entertainment district. Since opening in 2013, Evolution Wonderlounge, nicknamed EVO by staff and customers alike, has provided a safe, fun space year-round for queer and allied patrons. EVO is also the central hub of Edmonton's incredible drag scene, where you can find multiple shows per week. Don't be surprised if you're in town for some special guests too – EVO loves to bring in RuPaul's Drag Race stars and other celebs! If shows aren't your thing, don't worry; the club also has frequent theme nights such as retro dance parties, onesie nights, and more.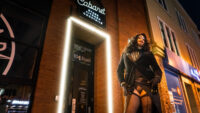 Many other venues demonstrate their openness to 2SLGBTQIA+ people by hosting pop-up events like drag bingo and regular drag shows. Groups like Fruit Loop, Party Queens and the Imperial Sovereign Court of the Wild Rose (ISCWR) host their events throughout the city's core. Check out their social media to see their upcoming events! Downtown venues such as Campio Brewing or the Starlite Room host many such events, but are also welcoming spaces any night of the week. Similarly, venues in Old Strathcona such as Spotlight Cabaret are also great spots for visiting 2SLGBTQIA+ people to grab some food or drinks in a queer-affirming space.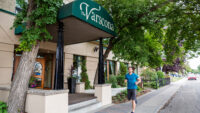 When seeking accommodation in Edmonton, keep in mind those two neighborhoods. Hotels such as the Matrix, the host hotel for Edmonton PrideFest and Evolution Wonderlounge, are right in the middle of the action, and most venues are nearby. Looking to stay on Whyte? Try the Varscona hotel!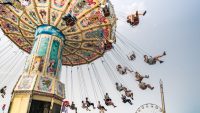 Summer is a great time to visit Edmonton, not only because of our amazing river valley, but also because of our action-packed festival season! While Edmonton has festivals all year long, you're going to find the queerest action during the summer months. From Pride Month in June, to Pride Day at K-Days in July, to the Edmonton International Fringe Festival in August; the 2022 Fringe hosted a record-number of queer-produced and themed programming.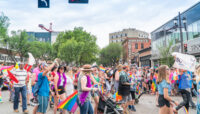 Pride Month in June is a great time to visit our city if you're looking for fun rainbow experiences. The 2022 festival included programming from all the groups mentioned above, as well as other beer gardens, drag brunches, and more, all leading up to the two-day PrideFest at Churchill Square, located right in the heart of the city and only two blocks away from Edmonton's gay bar. Edmonton's West Coast League baseball team, the Riverhawks, Canadian Professional basketball team - the Stingers, and hockey teams, the WHL Oil Kings and NHL Oilers, also host Pride events, showing the commitment of Edmonton's professional athletics to creating a safe and inclusive community and city.
Not visiting during the summer but don't want to miss out? Don't worry. The thriving Edmonton drag scene means you're going to find increasing 2SLGBTQIA+ programming even in the winter months. For example, Winterruption happens every January and it's just one of the festivals choosing to incorporate queer art and artists in their cultural and entertainment showcases.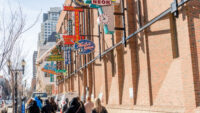 One of Edmonton's most popular stops for a photo is the downtown Neon Signs Museum, an outdoor collection which includes some significant 2SLGBTQIA+ venues of the past. When you stop by to check out this 104 Street attraction, it's a great opportunity for you to visit the queer and trans history of our city. The Edmonton Queer History Project has created a downtown walking tour, and 104 Street, the former gay disco district of our city, is a great place to begin your exploration of the bars, baths, and businesses that make up Edmonton's vibrant contributions to the greater Canadian 2SLGBTQIA+ history. Learn about Michael Phair, Delwin Vriend, Wallbridge and Imrie, and more important Edmonton queer pioneers.
Edmonton is a friendly and welcoming place to visit, and this includes 2SLGBTQIA+ tourists! You'll find a variety of events, venues, and activities guaranteed to make your rainbow visit to our city enjoyable and exciting.

This article is written with 2SLGBTQIA+ travelers in mind. While many places in Edmonton are in fact always welcoming of all regardless of sexual orientation or gender identity, some travelers prefer to know which spaces, events, and venues are explicitly queer.