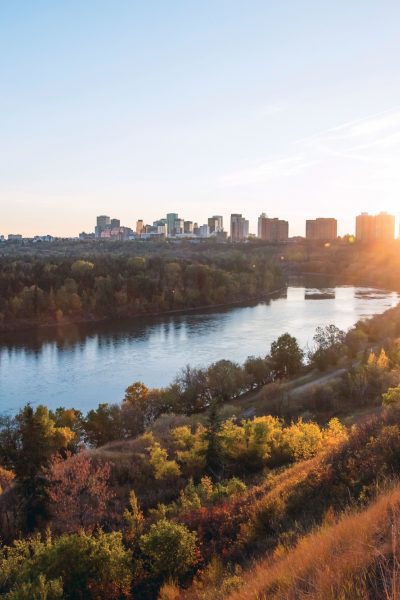 Free Things to Do in Fall
Rent, car insurance, groceries, a new tiny outfit for your dog... you've got enough to spend your money on. And hey, you work hard for your paycheck. We get it. Lucky for you, the best things in life really are free. Check out this list of awesome things to do in Edmonton that won't break the bank this fall.
The Art Gallery of Alberta offers free All Access Evenings on Tuesdays and Wednesdays from 5pm to 8pm. The AGA is a Mecca for visual art and architecture lovers. In fact, the exterior of the building is a work of art in itself– the swirling zinc is representative of the Aurora Borealis, a natural light display that can often be seen in Edmonton.
November Project can help you get into shape with early morning sweat sessions led by professional athletes. These outdoor workouts happen year-round, no matter the weather. That's right, even in -30C. Anyone can join, just show up in your stretchy pants and get moving. November Project encourages people of all ages, shapes, sizes, and fitness levels to get out of bed and join the tribe.
Get starstruck at The University of Alberta Observatory. It's located on the roof of the Centennial Centre for Interdisciplinary Science (CCIS), the science faculty's shiny new building. Open on Thursday evenings for regular observing hours, you can take in the beauty of the cosmos for free... that's quite a bargain for the vast expanse of celestial wonder that is outer space. Neil Degrasse Tyson would be proud.
Step Back in Time without Spending a Dime
Experience a taste of Alberta's history on a free guided tour at the Alberta Legislature. Ask about the Famous Five who fought for women's right to vote. Learn about the fascinating stories behind the portraits and magnificent art. Glance at the bejeweled gold and silver ceremonial Mace. And don't forget to listen for the phenomenon known as the "magic spot".

Head north from the Legislature's rotunda and you'll stumble into the brand new Visitor Centre on the main floor of the Federal Building. Open year-round to the public, the Visitor Centre features the Pehonan Theatre, the Agora Interpretive Centre, the Borealis Gallery, and Alberta Branded, a gift shop showcasing locally made products. Learn about the history of the province and feel as though you experienced it yourself with the new, state-of-the-art 4-D theatre. And be sure to stop by every Thursday evening at 6:00pm for Thursdays TBD, To Be Discovered, where visitors can look forward to free, exciting and unique events such as film screenings, concerts and guest speakers!

Old Strathcona Farmers' Market
The Old Strathcona Farmers Market is a great place to spend a morning or afternoon, even if you don't plan on making a purchase. Fresh produce, handmade jewelry, clothing, art and unique home goods are all worth perusing, and you can also see free entertainment like street performers and live musicians. Plus, this market moves indoors for the chillier months, so you can enjoy it year-round.
Speaking of the River Valley
Looking for a backdrop to spice up your Instagram feed? You're in luck. Millions of leaves are shifting from green to amber in the North Saskatchewan River Valley. The river valley also has over 150 km of trails just waiting to be explored. These trails are perfect for jogging, cycling, or even a casual stroll. Grab a buddy and meander through North America's largest stretch of urban parkland, or cycle through the trees and trails on a mountain bike. Sweater weather never looked better.
Window shop and people watch in Old Strathcona
The bohemian spirit of Whyte Avenue awaits, and you don't have to spend any hard-earned dough to enjoy the vibe. Sift through Blackbyrd Myoozik's collection of vinyls and CDs then pop into unique shops like Vivid Print, or the Junque Cellar. Finish off with a dive into the collection of vintage finds at the Old Strathcona Antique Mall.