Explore 17 hours of Sunlight
The best summer ever is just a short flight away in Edmonton.
With plenty of space to roam, Edmonton is the perfect place to soak up 17 hours of sunshine and connect with nature. Plan your escape to Edmonton and get ready to set your 'out of office' this summer. From visiting roaming plains bison at Elk Island National Park to conquering river valley trails tucked away in the heart of the city, there's something for every explorer.

Crisp air. Open landscapes. Big adventure. You've explored your backyard, now explore ours.

No matter how you explore, be sure to continue practicing safe physical distancing, frequent hand washing and following the guidelines put in place to keep everyone safe!

A Bison traffic jam is one situation that Google Maps can't prepare you for! With hundreds of free-roaming bison at Elk Island National Park, you just might catch a glimpse of a herd grazing in an open meadow or stopped in the middle of the highway with dew glistening on their woolly coats in the morning. Just east of Edmonton, Elk Island provides some of the best wildlife viewing opportunities in North America.

The park is also part of the Beaver Hills Dark Sky Preserve, meaning it's a stellar location for stargazing. Bring a blanket, a basket full of late night snacks, and gaze up at the starry sky where you'll see star clusters, nebulae and galaxies. Better yet, spend the night in one of the luxury geodomes at Elk Island Retreat.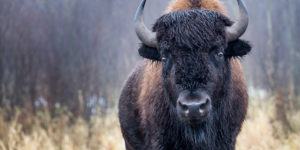 The River Valley is Calling
There's green space, and then there's the North Saskatchewan River Valley. Edmonton's river valley has over 150 km of trails that are perfect for jogging, cycling, and taking in the picturesque city vistas. Not sure where to start? Check out a few of our favourite trails here.

Rather explore the city by water? Paddle your way along the North Saskatchewan River spotting wildlife, and taking in the city's beautiful skyline with Edmonton Canoe. Feeling adventurous? Blaze your own trail on an e-scooter tour with River Valley Adventure Co. Want to get that bird's eye view? Get your head in the clouds with Edmonton Regional Helicopter Tours.

Explore Indigenous Edmonton

Amiskwacîwâskahikan, also known as Edmonton, is located on Treaty 6 Territory, home to many nations including the Cree, Saulteaux, Blackfoot, Sioux and Métis People. Take a self-directed tour with this handy guide to the city's remarkable Indigenous landmarks and spaces, and check out our guide to exploring ᐄᓃᐤ (ÎNÎW) River Lot 11∞. Venture further to Metis Crossing, the first major Métis cultural interpretive centre in Alberta. Here you can Paddle into the Past with a voyageur canoe experience, or enjoy tours of their museum, historical village and more!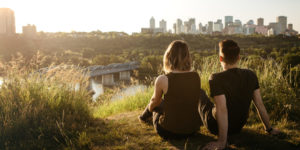 While planning your trip to Edmonton, be sure to block off some time to soak up the sun on a patio. Summer is the perfect time to take a trip down patio lane. Stop in at one of the city's incredible local eateries and make the most of the long, hot summer nights… you're never alone with a cold drink in your hand! Click here for a list of the best outdoor watering holes in the city.
Embark on a Self-Guided Tour
Be your own tour-guide with a little helping from technology! The Commonwealth Walkway App is a great guide to exploring Edmonton's river valley while reading and listening to one of five storylines (Indigenous, History, Family, River & Winter). Gain a new perspective on Edmonton's history and take a free audio tour while using the Edmonton Queer History App. Stretch your legs, and expand your knowledge of Edmonton's ongoing story.
Edmonton's street art game has exploded in the last few years, thanks to the visionary team at Rust Magic. Check out their virtual mural map and plan your self-guided tour around the city where you'll discover incredible large-scale works by international and local artists. Visit their Instagram page for some visual inspiration!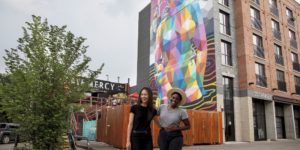 Playgrounds are for big kids too
Get ready to hit the biggest and most intricate jungle gym you've ever seen at the Snow Valley Aerial Park. Imagine climbing through a mix between a treehouse and a giant jungle gym. This incredible tower of obstacles and games is the first of its kind in Canada and 3rd in North America. With dedicated kid's routes and routes for adults, there is something for every level of adventurer!
Dust off your camera or smartphone and get ready to capture the city's summer glow. Edmonton has plenty of Instagrammable locations just waiting to be discovered. Check out our list of picture-perfect hidden gems in our two-part article series: Edmonton's Best Photo Spots. You'll see the city from a whole new perspective while taking your Instagram page to the next level.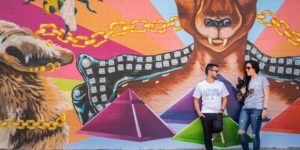 Dust off your clubs and discover the many pristine golf course in and around Edmonton. We've gathered some of our favourite public and semi-private places to perfect that swing - just click here! The sun is shining, the birds are chirping, and you're ready to nail that hole-in-one. The best afternoon ever awaits!
A short forty-minute drive from downtown Edmonton you'll find the University of Alberta Botanic Garden — the largest botanical garden in the province. The gardens have partnered with extraordinary local food and beverage makers to create fully stocked picnic baskets for two. Boxes are charcuterie-style and adorned with fresh flowers and herbs grown right there at the garden.

Rather take your picnic plans into your own hands? Pick-up snacks from Edmonton's incredible restaurants, and fill your basket to the brim. Then lay out your blanket at one of our favourite picnic spots!