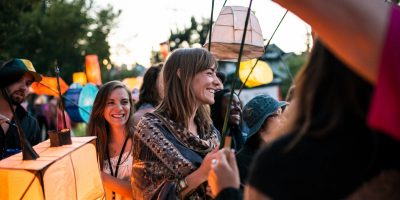 10 Awesome Things About Edmonton
1. Edmonton has a booming culinary scene.
Take your taste buds on a journey to some of the hottest craft beer taprooms, hyper-local bistros and indie bakeries. Edmonton is the youngest capital city in Canada, and that means our chefs aren't afraid to experiment a little. Our Restaurants, like the Duchess Bakeshop (one of Buzzfeed's top bakeries in the world), are gaining international recognition—so pack your stretchy pants!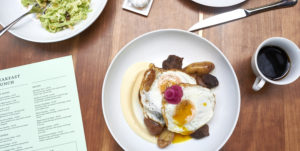 2. Edmonton has an incredible hub for sports and entertainment downtown.
Head to the ICE District downtown and conquer awe-inspiring acres that include local restaurants, nightlife, a state-of-the-art casino, luxury accommodations and of course, Rogers Place. This architectural and technological marvel hosts the biggest names in music and is home to the Edmonton Oilers and Oil Kings hockey teams.
3. We've got the Mt. Everest of indoor entertainment, shopping, and attractions.
West Edmonton Mall is part adventure park, part entertainment complex, shopping, and dining destination. The Mall spans the equivalent of 48 city blocks and at one time had more submarines than the Canadian Navy!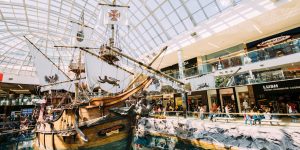 4. There's green space, and then there's the North Saskatchewan River Valley.
Coming in at 22 times the size of Central Park, Edmonton's river valley and park systems have over 150 km of trails waiting to be used. Cruise through North America's largest stretch of urban parkland by foot, bike, canoe, snowshoe or even Segway.
5. Edmonton has long, glorious sunny days.
June through August, the sun can rise as early as 5:00 am and sets as late as 10:00 pm. That's 17 hours of vitamin D, and plenty of time to pack in warm-weather activities. The sun even sticks around when the temperature drops in the winter, which makes for Instagram-worthy shots of our snow-covered landscapes.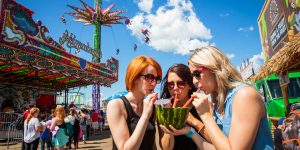 6. Edmonton knows how to do winter right.
We make Old Man Winter proud with outdoor patios, city-wide snowball fights, deep freezer races, and our spectacular view of the Northern Lights.
7. Edmonton brings the wildlife.
Elk Island National Park is home to free roaming plains bison, moose, deer, elk and over 250 species of birds. Also, both the largest and smallest terrestrial mammals in North America make their homes here, the wood bison and pygmy shrew. What are you waiting for? Gather the herd and get exploring!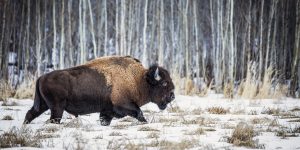 8. "We the North"? No, WE the North.
Edmonton is the largest Northernmost metropolis in North America and the ultimate gateway to Canada's wild, adventurous boreal landscapes. Our backyard has grizzly bears, waterfalls, canyons and glacier-fed lakes. Spend a couple nights in the city, then head out to the Rocky Mountains or Canada's Northern Territories for the ultimate Canadian experience.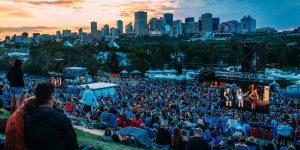 10. Normal is for the other guys.
We've always stood out from the rest of the Canadian crowd, but that's okay. Edmontonians aren't afraid to think outside the box— just look at our boundary-pushing arts scene. We camp with bison, party under the aurora, and surf on the prairies. There's a uniqueness to how Edmontonians do ordinary things, and we welcome you to be a part of it.