Contact Information
Street Address

Various locations along the North Saskatchewan River, Edmonton, Alberta
The largest expanse of urban parkland in North America. With over 20 major parks and attractions, 7,400 hectares of land and a river valley that's 22 times the size of New York City's Central Park, there's tons to explore.
Hit the trails
Edmonton's river valley and park systems have 150 kilometres of trails scattered throughout the city just waiting to be used! These trails are perfect for jogging, cycling and nature enthusiasts. Jog or stroll through the winding paths and find yourself surrounded by wildlife as you take in the beautiful views of the cityscape. Or if you're an adrenaline junkie, choose to ride off the beaten path and pedal off-road on your mountain bike.

For a map of the bike paths throughout Edmonton, take a look here.
Explore by segway
For a unique Edmonton experience, blaze your own trail and venture through the river valley on a segway tour with River Valley Adventure Co. Jump on, secure your sunglasses and hit the trails - the only preparation you'll need is to pack your camera. Your guide will share some of Edmonton's history and provide tips and tricks as you cruise along the trails. River Valley Adventure Co. also provides mountain bike and roller blade rentals, as well as everything you need for games like volleyball, croquet, bocce ball, football, soccer.
Paddle through the river valley
If biking, running and segwaying aren't for you, take to the water and paddle your way through the river valley. Rent a canoe or kayak and bring along your fishing rod if you want to catch some lake sturgeon or walleye along the way (take a guide with you if you'd like). You can also go paddle boarding with friends or float down the river by raft on a hot summer's day.
Picnics in the park
With a plethora of parks scattered throughout the valley, there's plenty of opportunity to take a break for the afternoon. Set up a picnic, roast hotdogs and hamburgers with the public BBQs and toss around the Frisbee or football in a park! Fly a kite in Hawrelak Park, or take off in a hot air balloon at Buena Vista Park. Not sure which parks are best to set up camp? Check out our blog on Edmonton's Best Picnic Spots for some inspiration.
Spend the whole day in the river valley
For a fun day's outing, visit some of Edmonton's attractions along the river valley. For history lovers, step back 100 years at Fort Edmonton Park where you can experience four eras of Edmonton's past. Nestled in the heart of the valley is the Edmonton Valley Zoo with over 350 different animals to visit! Admire the pyramids of the Muttart Conservatory filled with beautiful gardens and species from Mexico to Madagascar. Or learn about nature and wild animals at the John Janzen Nature Centre. There are also several public golf courses that use the banks of the river valley as a scenic backdrop.
A winter wonderland
In the wintertime, the river valley becomes a winter wonderland. Cross-country ski or snowshoe along the trails, or strap on a pair of skates and explore the skating rinks in the river valley. And how many cities have two ski hills within city limits? Check out Snow Valley Ski Club and Edmonton Ski Club.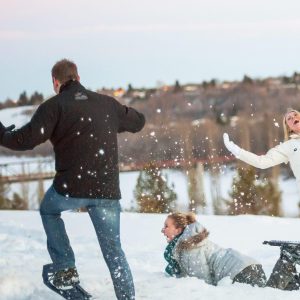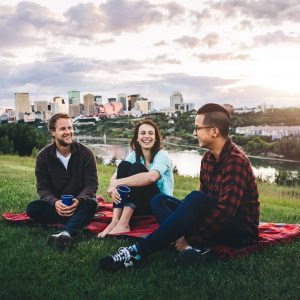 You Think You Know Edmonton? River Valley