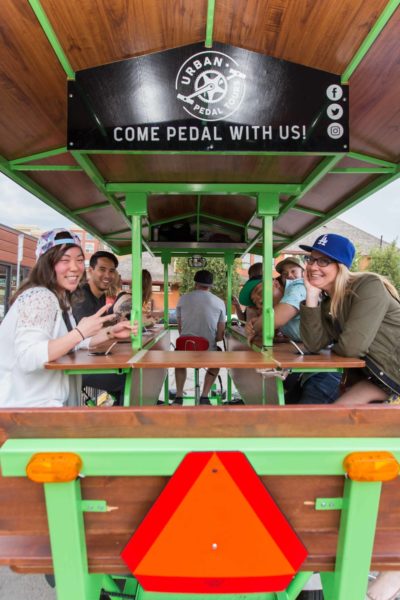 Edmonton Tours Made for Exploring
This list of the best Edmonton tours will guide you through everything from hidden gems to iconic sites. We're talking food tours, brewery tours, walking tours, helicopter tours, segway tours and even ghost tours. We can guarantee incredible sightseeing and iconic Edmonton activities that will help you see the city the way the locals do. What are you waiting for? Start exploring!

Take yourself on a self-guided tour unlike any other with the interactive Commonwealth Walkway app. Using the downloadable app, visitors can explore the river valley while reading and listening to dozens of stories in five main categories (Indigenous, History, Family, River & Winter). Learn little-known facts about Edmonton and it's vibrant story while satisfying your thirst for adventure on this self-guided tour!
Availability: year-round
Urban Pedal Tours
Hop on a 15 passenger U-shaped bike and pedal your way through Edmonton's top craft beer taprooms and breweries. You'll use the power of the pedal to make your way to 3 distinct stops, while taking in the River City along the way. Let Urban Pedal Tours guide you and 14 fellow expeditioners on a 2-hr tour to some of the best places to laugh with friends, meet new people and grab a drink in Edmonton.
Availability: Spring & Summer

Free Tours at the Alberta Legislature
Discover the Alberta Legislature on a free guided tour, offered hourly. Ask about the Famous Five who fought for women's right to vote. Learn the fascinating stories behind the portraits and magnificent art. Glaze at the gold and silver ceremonial Mace. And don't forget to listen for the phenomenon known as the "magic spot".
Availability: year-round.
The Tours at City Hall
City Hall guided tours are free and are offered to all ages by knowledgeable tour guides. During a tour of City Hall you will learn about municipal government, discover Edmonton's past, and marvel at City Hall's art and architecture. You may even have a chance to see City Council in action! Self-guided tours are also available.
Availability: year-round, please book in advance if visiting outside summer hours.
Art Tour YEG
Take the free, self-guided art tour and uncover the stories behind our love of quirky steel sculptures, tributes to over-the-top personalities, and whimsical, cement-blasted poetry. Follow along this tour using your smartphone. You can also pick up a brochure at one of the participating Downtown hotels.
Availability: year-round.
Black Gold River Tours
Experience an unforgettable journey on the beautiful North Saskatchewan River. Look for petrified wood, gold or driftwood along the unexplored rocky shorelines. Sit back, relax and watch the river run by from one of the beautiful beaches. You can also stay on the boat and simply float through the heart of our province's capital city.
Availability: spring- early fall (weather permitting).
Alberta Food Tours
Alberta Food Tours leads walking tours with six to ten tastings over a three hour period. Your guides will share entertaining stories about the history and daily life in Edmonton's great foodie neighbourhoods.
Availability: year-round, please book in advance.
Edmonton Regional Helicopter Tours
Find yourself in the clouds as you explore Edmonton from above! Edmonton Regional Helicopters offers everything from a tour of metro Edmonton to an island heli-picnic for two in the middle of the North Saskatchewan River. Get ready to explore Edmonton from a whole different angle!
Availability: year-round, weather-permitting.
Segway Tours with River Valley Adventure Co.
Explore North America's longest continuous trail system in the heart of the river valley on Segway with River Valley Adventure Co. It's where bold travellers break off from the beaten path and make their way into the wild!
Availability: weather-permitting.
Bison Backstage Tour at Elk Island National Park
You've heard the roar of the bull bison and marvelled at the herds grazing in park pastures. Now get a VIP backstage pass to discover the secrets of how the plains bison was brought back from near extinction and how its continued safety and health are ensured.
Availability: pre-book through the Elk Island Visitor Centre.
Explore Edmonton by Canoe
Have a quintessential Canadian experience: take a canoe trip along one of Edmonton's many rivers or lakes with Haskin Canoe or Edmonton Canoe. Whether you choose a voyageur tour or an evening paddle, you'll experience Edmonton from a different vantage point and explore some natural beauty.
Availability: spring- early fall.
Edmonton Brewery Tours
Add a little hoppy, frothy goodness to your stay. Edmonton Brewery Tours takes guests on a journey through Edmonton's thriving craft beer scene. Discover how passionate tap pullers and a thirst for good beer quickly evolved into a local liquid obsession.
Availability: year round.
Join a walking tour of Edmonton's original eats and local gems and discover everything you never knew you were missing. There's something for everyone, from bacon and beer fanatics to dessert connoisseurs and the brunch obsessed.

Availability: year-round, please book in advance.