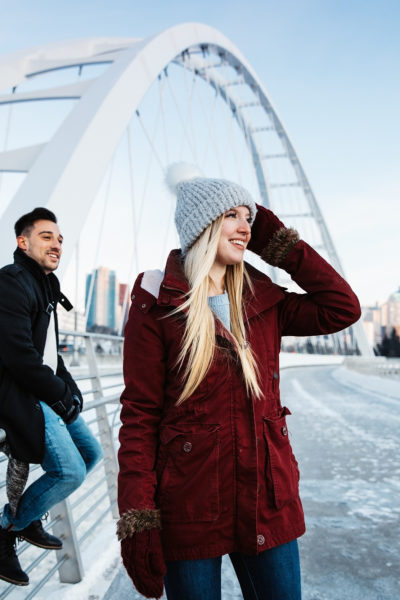 Winter. We Were Made for This.
There's no season like snow season.
Here in Edmonton we do winter right. We leave hibernation to the bears and take advantage of the city's boundless outdoor experiences and incredible adrenaline fueled-adventures just waiting to be explored. Winter is more than just a season here. It's in our DNA.

No matter how you explore, be sure to continue practicing safe spatial distancing, frequent hand washing and following the guidelines put in place to keep everyone safe.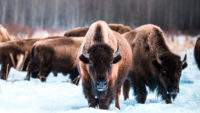 Thirty-five minutes east of Edmonton lies a wild oasis at Elk Island National Park. With hundreds of free-roaming bison, you just might catch a glimpse of a herd grazing in an open meadow or stopped in the middle of the highway with steam rising from their woolly coats on a frosty morning. The park is also part of the Beaver Hills Dark Sky Preserve, meaning it's a stellar location for stargazing. Gaze up at the starry sky where you'll see star clusters, nebulae and galaxies. Winter is also the perfect time to spot the pulsating chorus of lights known as Aurora Borealis.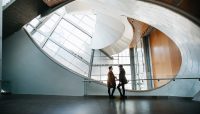 In the heart of downtown Edmonton you'll find The Arts District, home to both the Royal Alberta Museum and the Art Gallery of Alberta. The Royal Alberta Museum (or RAM as it is known to locals), preserves, researches, interprets and exhibits objects and specimens related to the heritage of Alberta's people and natural environment. This diverse museum pulls back the curtain on Alberta's legendary stories and dynamic history.

Art lovers, rejoice! The Art Gallery of Alberta is open to the public from Thursday to Sunday every week. With an exterior of zinc, glass and steel inspired by Edmonton's unique northern environment, the gallery exudes creativity even from the outside. Take in everything from original contemporary to historical exhibitions from Alberta, across Canada and around the world. Looking to explore the AGA from home? The gallery is proud to offer online programming including live webinar events, hands-on art activities and more!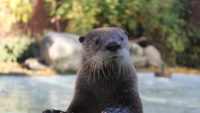 The Edmonton Valley Zoo, home to hundreds of species of plants and animals from around the world, is a perfect family outing. Bring along the kids for a chance to see the endangered peregrine falcon, native prairie dogs, a zebra, fox, and bighorn sheep. Check out the Polar Extremes exhibit that gives visitors an up-close view of seals, sea lions, and arctic foxes. This season, don't miss Zoominescence, returning again for winter. You'll find a spectacular exhibition of artistic light installations, skating, hot chocolate and fun for the whole family!

Explore Indigenous Edmonton
Edmonton is lucky to boast the second largest Indigenous population in Canada, full of talented performers, artisans, musicians, and entrepreneurs. Join Sissy from Wase Saba (Black Bear) Experiences for an immersive Indigenous Powwow Dance Experience or take part in an interactive tour with Talking Rock Tours and discover the story of the land with a Métis guide and geologist.
Embark on a transformational experience at Métis Crossing, just 1.5 hours northeast of Edmonton. Make it a day-trip and discover how the Métis lived as trappers, learn about historical families and their homes, and understand how plants are used as medicine. Strap on a set of snowshoes, set a snare, build a survival shelter, and much more. While Métis Crossing is currently closed, you can look forward to reopening dates announced shortly! Stay tuned for new experiences coming soon including a Boutique Lodge, the Visions, Hopes and Dreams Wildlife Park, Cross Country Ski Trails and Whispers from the Stars Stargazing Experience.
Hit the ground running or walking or Segway-ing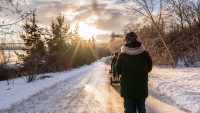 Edmonton's river valley has over 150 km of trails just waiting to be explored. These trails are perfect for snowshoeing, cross-country skiing, fatbiking and taking in the sprawling urban parkland that is the North Saskatchewan River Valley. Feeling adventurous? Blaze your own trail on a winter segway tour with River Valley Adventure Co.
The Commonwealth Walkway App is a free guide to exploring Edmonton's river valley while reading and listening to one of five storylines (Indigenous, History, Family, River & Winter). All you need is a smartphone and a thirst for adventure!
Look up, wayyyy up! Take flight with Edmonton Regional Helicopters and explore the North Saskatchewan River from a bird's eye view. You'll discover the city's crisp snow-covered landscapes like never before!
Dark Nights and Bright Lights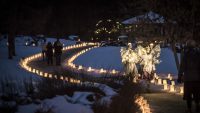 A short forty-minute drive from downtown Edmonton you'll find the University of Alberta Botanic Garden — the largest botanical garden in the province. When the snow falls, the garden transforms into a true winter wonderland with snow sprites, glowing light sculptures, musical performances and more. This year, the legendary sell-out event, Luminaria, is back for the month of December. This means that even more visitors can safely take in the candlelight, starlight, peace and tranquility.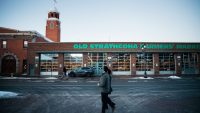 Indoor markets like the Old Strathcona Farmers' Market make it easier than ever to support local all year-round. Edmonton made jewellery, clothing, art and unique home goods are all on the menu, as well as fresh produce and live entertainment.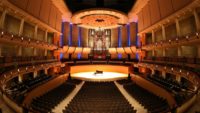 At long last, live performances are hitting the stage once more, with modified seating and other precautions to keep everyone safe. Rapid Fire Theatre is back, bringing award-winning improv to a new home, at the Backstage Theatre in the heart of Old Strathcona. The Citadel Theatre is thrilled to present unique and outstanding theatre presentations. The Winspear Centre welcomes back the talented artists of the Edmonton Symphony Orchestra for a new season of in-person concerts.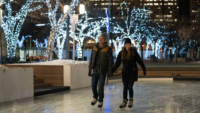 If one of your favourite sounds isn't of a skate gliding across the ice, then you're living your whole life wrong. Breathe in the crisp air as you drift across a glassy-smooth sheet and watch the snow spray as you skid to a stop. The Victoria Park Oval (12130 River Valley Road) is the perfect place to skate surrounded by nature. Check out additional outdoor skating rinks (Or ODR's as we like to call them) here.

You Have to Ski it to Believe it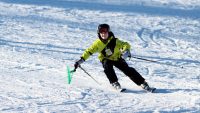 As snowflakes fall through the crisp winter sky, take a deep breath, and get ready to feel your energy soar as you take on a Snow Valley Ski Club run. If you've never been on a pair of skis or a snowboard, or are eager to learn more, Snow Valley Ski Club is a great place to gain confidence over 20 acres of skiable terrain. It's the perfect winter activity for the whole family!
Located in the river valley, directly across from downtown Edmonton, the Edmonton Ski Club is a true urban snow sports learning centre. The Edmonton Ski Club boasts 25 skiable acres of machine-made pristine groomed snow, offering runs for beginner and advanced skiers and snowboarders as well as a mogul run and Terrain Park.
Ride the slopes at the Rabbit Hill Snow Resort, the largest ski and snowboard resort in the Greater Edmonton Area! Located 15 minutes South West of Edmonton, it is a great escape from the city for the day or even an evening of night skiing.
You'll find everything from big-name retailers to local boutiques in Edmonton. Discover North America's largest shopping and entertainment centre, West Edmonton Mall, the legendary Premium Outlet Collection at EIA, and the meticulously curated shops that make up the bohemian spirit of Whyte Avenue. Go on, give your wallet a run for its money!