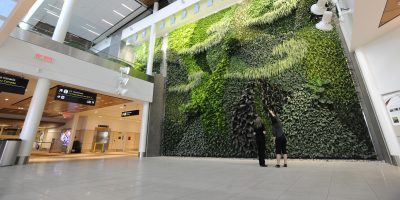 YEG Edmonton International Airport
Edmonton International Airport is a great destination and connection hub with non-stop flights to over 50 major cities in Canada, the U.S. and internationally. With incredible service and amenities including tons of dining choices, shopping (including 100 stores at the Premium Outlet Collection EIA) and even a horse racetrack and casino, as well as an excellent complimentary rewards program. EIA is the perfect way to start and cap off your Edmonton adventures.
EIA is more than an airport – it's a destination. Shop, stay and play to your heart's content.
Don't Leave Edmonton Empty Handed
Over 100 stores are waiting at Edmonton International Airport's Premium Outlet Collection. Go on, stuff your suitcase!
Direct Air Access To Edmonton
With over 60 shops, restaurants and services within the terminal, Edmonton International Airport (EIA) will prepare you for take-off! From magazines to headphones and tech gadgets to fashionable travel clothes, you'll find the items you forgot to pack and even a few you didn't know you wanted. Enjoy a pint or sit down for a meal. In a hurry? Grab a quick bite at one of the delicious grab-and-go options. Take in the stunning art, architecture and live music just waiting to be discovered. Pro-tip: located near gate 64, over 8,000 plants form a two-storey "Living Wall" which naturally improves air quality while also providing a beautiful work of art.

Plus, when you rest your head at The Renaissance Edmonton Airport Hotel or Fairfield by Marriott Edmonton International Airport, you'll have all the EIA amenities at your fingertips.
From touchdown to takeoff, Edmonton is raising the bar for health and safety. Our facilities and hotels don't just look and feel clean, they're verified clean — backed by the Destination Global Biorisk Advisory Council® (GBAC) STAR™ Accreditation, keeping you safe from the moment you land. Passenger safety is Edmonton International Airport (EIA)'s highest priority. In addition to the GBAC STAR Accreditation, EIA is accredited by Airports Council International's rigorous Airport Health Accreditation Programme.

To learn more about the Destination GBAC STAR™ Accreditation, click here.