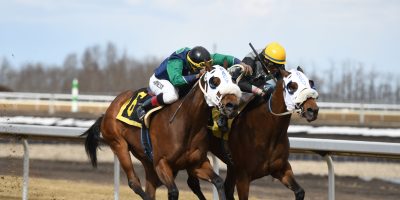 Century Mile Racetrack and Casino
You're off to the races!
The premier destination for horse racing fans, Century Mile offers Alberta's only grade 'A' one-mile track. Be trackside to feel the magic of the Thoroughbreds in the summer or welcome the sulkies and drivers when harness racing begins. Children are welcome on live racing days as the facility's second floor and outdoor apron are family-friendly.
Century Mile boasts state-of-the-art barns with over 800 stalls and veterinarian space, providing the best lodging and care for the world's most beautiful Thoroughbreds and Standardbreds. Step behind the barn doors to enjoy a free guided tour and learn how our horses, trainers, jockeys, and drivers prepare for a race day. The multi-level building offers a wide variety of slots, VLTs, electronic horse racing and the Replay Arena which is home to electronic blackjack, baccarat and roulette. Enjoy a drink at the unique bar or sports lounge or treat yourself to a delicious meal in The Derby restaurant.
Century Mile Racetrack and Casino can be easily accessed from the QEII, take the exit onto Edmonton International Airport Rd, then take your first right.