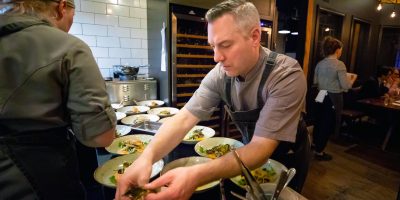 If fresh is what you're looking for, RGE RD is certainly where you'll find it. Driven by a passion for Alberta's abundance of quality produce, Chef Blair Lebsack's philosophies around using local, healthy and ethical food was the foundation of his dream to build an urban gathering place where the farm dictates the menu. Since 2013, the rustic 60-seat restaurant located just outside of Edmonton's downtown core invites guests to "eat off the beaten path", sourcing ingredients and provisions from farms and small-scale producers across Western Canada.
On any given day, the menu boasts wild game, sustainable seafood, seasonal vegetables and local grains alongside wines from the Okanagan and local craft beers. The ever-changing nightly special, fondly referred to as "Questionable Bits", is influenced by Chef Blair's whole animal program and utilizes every nook and cranny from nose to tail.
In addition to day-to-day restaurant operations, Chef Blair and partner Caitlin Fulton have also developed an urban-rural partnership with Central Alberta's farming community by hosting long table pop-up dinners held at local farms. Lucky ticket holders are hosted to a farm-to-table experience that showcases wood-fire cookery, stories from the fields and of course, a glorious prairie sunset. Each course features ingredients found just steps away from the dinner table.
RGE RD has been named Avenue Magazine Edmonton's #1 Best Overall Restaurant and included in Canada's Best 100, while Chef Blair was named one of Western Living Magazine's Foodies of The Year in 2013 and continues to hold the top spot in offering the most authentic Alberta culinary experience in the province.