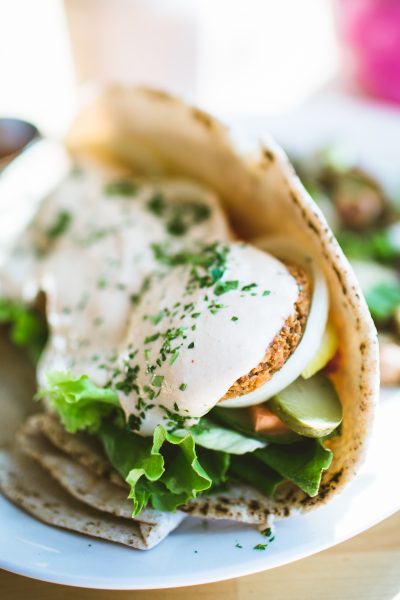 Best Brunch in Edmonton
If you're looking for the best brunch in the city, look no further. We've put together a list of places with the most delicious breakfast Edmonton has to offer. It doesn't matter whether you're craving something sweet or savoury; brunch is here to save your grumbling stomach and fill that breakfast-less void in your day.

You know the brunch is good when you don't even notice the sausage you just ate was actually made completely out of vegetables. You read that correctly. This vegetarian and vegan friendly breakfast place has fooled even the pickiest of meatatarians.
An absolute staple in Edmonton, you cannot leave Sugarbowl without trying one of their massive homemade cinnamon buns. And we really do mean massive, these things were made for sharing (unless you want to eat it all yourself, we wouldn't judge). Of course they have other amazing things on the menu, but really, try the cinnamon bun.
Award-winning, and rightfully so, PIP changed the brunch scene when it made its appearance in Edmonton. Serving up a bangin' brunch every single day of the week, we wouldn't judge you if you showed up for each one. We'd highly recommend the short rib eggs benedict, or of course a millennial staple, avocado on toast. And wash it all down with one of their scrumptious brunch cocktails. Mimosas, anyone?
Sister restaurant to PIP and the Next Act Pub, MEAT is in a class of its own. They smoke up the most tender and flavourful meats you've ever tasted and then incorporate them into their brunch menu to make for a morning meal you won't soon forget. And while this is definitely a meat-lovers paradise, they haven't forgotten about including vegetarian options too!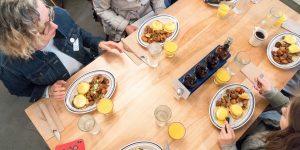 Picture your choice of homemade bagel (we highly recommend cheese) topped with a perfectly poached egg and buttery hollandaise. Top it off with a few special ingredients like prosciutto and apples on the Secondo, or a full beef patty dressed up with pickles on Bobby's Benedict. As an added bonus, each benedict comes plated with a bunch of neat little fancy fruits.
This beloved neighborhood restaurant, established in 1982, sits at the south end of the High Level Bridge, offering a picturesque view of the downtown skyline. The restaurant itself exudes charm with its cozy interior adorned with dark wooden beams, local artwork, and a delightful suncatcher display.
Rosso is local, organic, and always fresh! Some may not know this, but Rosso also offers an incredible brunch menu. Seeking out fresh ingredients from local sources, expertly combined into the simple, flavour-rich dishes that draw the world to Italy – you can guarantee a brunch experience like no other.
Under the High Wheel offers a delightful dining experience where old-world comfort food is expertly crafted and served in a charming and inviting ambiance. By emphasizing locally sourced and seasonal ingredients, they ensure that every bite is not only delicious, but also supports local farmers and producers.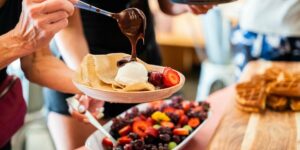 Right in the heart of 124th street, Tiramisu Bistro has an extensive & extremely delicious brunch menu. Cinnamon bun French toast, spaghetti benny, calamari hash, and the list goes on! After you're done filling up on brunch, head around the corner to Hideout Distro to shop for amazing locally made gifts, art, clothing and more.

This Edmonton-inspired restaurant serves a fabulous brunch from Wednesday-Sunday until 3pm. Their menu is designed to be shared at your table as much as possible, and you're encourage you to do so. From sweet treats like the milk bread French toast, to savory dishes like the maple rosemary sausage, each dish features a unique twist that's incredibly delicious!

This breakfast haven may not be exclusive to Edmonton, but it's worthy of this list all the same. From oodles of different french toast varieties, to a full list of breakfast poutines (we highly recommend Soul in a Bowl. It's so good it's been registered and trademarked), you won't go wrong with whatever you pick. They've even got light fixtures shaped like eggs. Check out their second location downtown, in the Kelly Ramsey Building.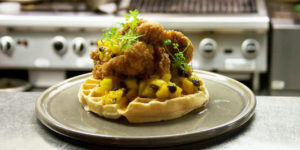 Central Social Hall has your brunch cravings covered every day of the week. Offering a small but mighty menu of all-day brunch items Monday through Friday, you can find an even more extensive menu available from 10:00am-3:00pm on weekends & holidays. It's the perfect place to enjoy a delicious brunch, and then hop over to the river valley trails nearby for a nice leisurely stroll.
Renowned for its incredible cuts of steak during their dinner service, DOSC does not disappoint in the brunch department either. Their small but mighty breakfast menu has a little something for everyone.

When thinking of local vegan favourites, you can't leave out The Moth Cafe! POC, family and women owned, this vegan café has a lush dining room with plants thriving in its natural light and diners embracing its approach of food to nourish.

Toast Culture is a restaurant/café in downtown Edmonton that features satisfying, scratch made artisan toasts & inviting customer service! They've partnered and sourced wonderful artisan breads from Bon Ton Bakery, locally roasted coffee from The Colombian, and a variety of local purveyors of fresh vegetables and charcuterie.

This downtown cafe was started by local small-space hospitality visionary Nate Box. Here you'll find not only an amazing cuppa joe, but also a beautiful brunch with the freshest ingredients. Get your hands on the breakfast sandwich and you'll be full for hours to come.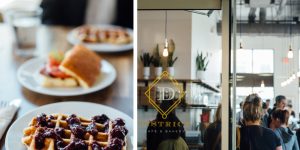 The Old Country Inn is down-right classic Edmonton. Any local can tell you that this gem has stuck around through Edmonton's good times and bad times. If you're an eggs benedict connoisseur, then listen-up. Old Country Inn's menu includes any type of eggs benny you can think of. Literally, any kind.

Beautiful inside and out, Little Brick will transport you back in time (to 1903 to be exact!), with a charming red brick house located in the heart of the river valley. Known for good coffee, simple living, and high quality wares, you'll find the brunch menu is no different. Classic menu items with an upscale flair will have you coming back time and time again.

Steps from the banks of the North Saskatchewan River, Dogpatch Bistro Pub is your new neighbourhood destination. Come enjoy scratch-made bistro eats, hand-crafted drinks, and a cool laid-back atmosphere. The Patch Benny is to die for... don't sleep on this savoury way to start your day.
If breakfast with a little je-ne-sais-quoi is your jam, then checking out Café Bicyclette for your morning meal is a must. Their omelet is light, fluffy and packed with tasty ingredients like mushrooms and chopped bacon sautéed with chive butter and brie. Their bennies are a delight as well, made with ingredients that won't disappoint (like smoked salmon - yum!). Pair the meal with a creamy cappuccino and a danish to-go.