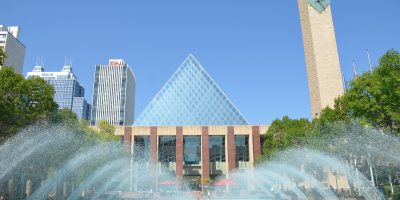 Music in the Air
The Alberta Symphony Orchestra brings beautiful music to Churchill Square.
September 19, 2021
Time

Street Address

Sir Winston Churchill Square, Edmonton, Alberta
The Alberta Symphony Orchestra Society is thrilled to present Music in the Air, featuring Cara Lianne McLeod, soprano, and Emilio De Mercato, pianist.

Cara and Emilio will be performing a series of outdoor concerts for the audiences of Edmonton and Alberta to bring hope and comfort to people and communities wherever possible by sharing their music throughout the summer. The program will include classical voice and piano repertoire, solo piano, crossover and pop music, and occasionally feature guest artists. Get swept away during this al fresco experience in Edmonton's iconic Churchill Square. There are three showtimes on September 19th; 1:00pm, 2:15pm and 3:30pm.

Admission is by donation (25$ suggested).