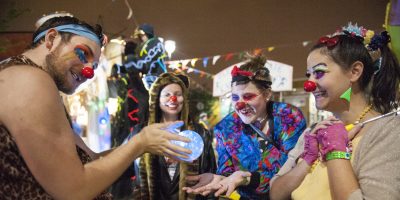 Kaleido Family Arts Festival 2022
A collision of music, theatre, dance, literary arts, film and visual arts!
September 16 – September 18, 2022
Time

Street Address

Alberta Avenue - 118 Ave, between 90 & 94 St, Edmonton, Alberta
Kaleido Family Arts Festival is a joyous, exuberant, radically open arts festival that shares the love of the Alberta Avenue Arts District. Kaleido welcomes arts and cultural experiences with multi-arts collaborative performances such as music, dance, theatre, film, literary and visual arts with performances on rooftops, sides of buildings, back alleys, parks and found spaces. It's an extravagance of creative exploration, imagination, and play.

Arts on the Ave and Kaleido are pleased to present Kaleido Family Arts Festival 2022: Heart in Living Colour. Kaleido is coming back to the Ave, bringing light and joy and filling hearts with music, art, and acts that are a wonder to behold, and (as always) free to the community!

The celebration culminates on Friday September 16 - 18 on the street and at pocket parks around the Alberta Avenue District!