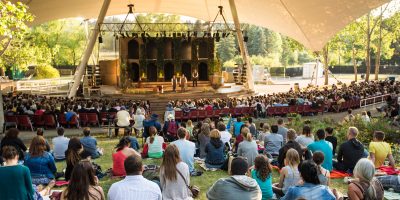 Freewill Shakespeare Festival
Grab a blanket and get thee to the Heritage Amphitheatre in Hawrelak Park.
June 15 – July 11, 2021
Time

Street Address

Heritage Amphitheatre - William Hawrelak Park - 9330 Groat Rd, Edmonton, Alberta
Get thee to a festival that brings the works of the Bard into the realm of everyone from kids to scholars during the Freewill Shakespeare Festival.

Savour a theatrical experience reminiscent of the intimate setting of Shakespeare's original Globe Theatre. Many a pleasant midsummer's night has been spent with King Lear and playful Puck. Every summer from late-June through mid-July the not-for-profit theatre company Free Will Players stages two innovative productions of the works of William Shakespeare.

The storied festival that began as a pass-the-hat affair in 1989 has since blossomed into a much anticipated summer event. Featuring more than 50 artists producing professional, contemporary renditions of the Bard's classics; you'll marvel at the colourful costumes, laugh at the ridiculous conundrums and flinch at the furious fight scenes as you fend off the squirrels trying to steal your popcorn.


The Freewill Shakespeare Festival is more than just great Shakespeare in the Park. It's a summer outdoor experience featuring wine Wednesdays, thirsty Thursdays, food, music, puppet shows, and more. Plop thy bum on thy blanket and enjoy Shakespeare al fresco.