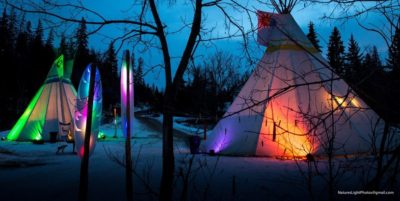 Flying Canoë Volant
Discover The Flying Canoe, a combination of a French-Canadian and First-Nations legends.
March 1 – March 5, 2022
Time

Street Address

Mill Creek Ravine and La Cité francophone - 8627 Rue Marie-Anne-Gaboury (91 Street), Edmonton, Alberta
Join one of Edmonton's great winter celebrations! The Flying Canoe Volant is a creative, interactive, and cultural event that celebrates local history and everything that is great about a long winter's night. Loosely based on the legend of the Flying Canoe, and on French-Canadian, First Nation, and Métis traditions, the Flying Canoe Volant invites you for a nighttime adventure in Edmonton's French Quarter and along the illuminated trails of the Mill Creek Ravine. Make sure you head to the Edmonton Ski Club on March 4 & 5 for the iconic Flying Canoe Volant Races!

The festival is celebrating it's 10th anniversary this year! Stay tuned for additional programming details as they're announced.


To ensure the highest level of safety for attendees and staff, Flying Canoë Volant will be participating in the Restriction Exemption Program where applicable throughout the event's programming. Printing your Restriction Exemption QR code is recommended as mobile phones may not survive colder temperatures.