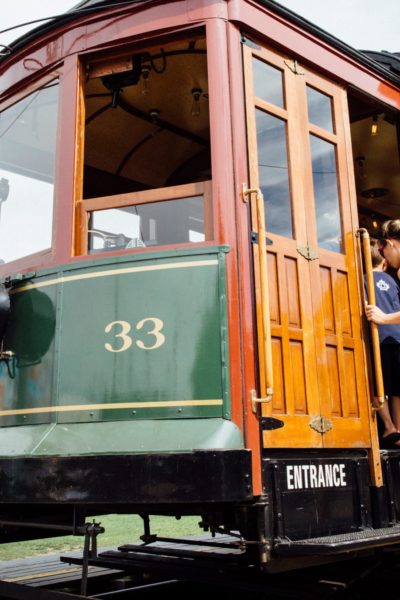 Activities for History Lovers
Whether you're taking a tour through museums and immersing yourself in Edmonton's culture, or sneaking past lethal predators at Jurassic Forest, there's no shortage of things to do that will make your inner history buff jump for joy!

Indigenous Edmonton
Amiskwacîwâskahikan (Edmonton) is located on Treaty 6 Territory, home to many nations including the Cree, Saulteaux, Blackfoot, Sioux and Métis People. Their traditional knowledge, languages, and ways of life are integral to the history and development of the region. Learn more about the rich Indigenous culture found in and around Edmonton.
Early Edmonton
Defy time, and begin your historic tour where the city originated, at Fort Edmonton Park. Untold adventures await as you travel back in time aboard a buggy or streetcar to be transported into the authentically re-created streets of 1846, 1885, 1905 and 1920. Engulf yourself in a full sensory experience to see what life was like long before Instagram famous dogs, Segways and our hockey hero Connor McDavid. Try your hand at bartering with a merchant to get the best return for your furs, ride an antique midway attraction, sample freshly baked bannock, and chat with costumed interpreters about life in the past.

Fort Edmonton Park is back after undergoing a massive expansion project to create a larger-than-life historical experience for visitors. The brand new Indigenous Peoples Experience is an awe-inspiring new addition to the park's exciting offerings. Gather and explore life through the diversity of First Nations' and Métis Peoples' histories and perspectives. The stories, music, artwork, and text in the experience come from local Indigenous perspectives and voices, gathered through engagement with local Indigenous communities and research.
The Alberta Legislature
Set atop the banks of the North Saskatchewan River, The Alberta Legislature is where Canadian premiers and political parties debate and make history. Discover "the Leg" on a free guided tour, offered hourly. Ask about the Famous Five who fought for women's right to vote and learn about the fascinating stories behind the portraits and magnificent art. Take a peek at the bejeweled gold and silver ceremonial mace, and don't forget to listen for the phenomenon known as the "magic spot".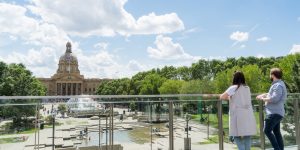 A Little Slice of History
Step back in time at McKay Avenue School and enjoy free admission for the whole family at this landmark that illuminates Albertan and Canadian political history.
Alberta's Treasures
On the top of your list of stops should be the Royal Alberta Museum, a must-see for history enthusiasts. Discover Western Canada's largest museum and the treasures of Alberta's cultural and geological past with 13 curatorial programs showcasing everything from pictographs to prehistoric plant-eaters. The Indigenous Studies Collection is one of the largest explorations of First People's history on the continent, with more than 18,000 objects of Indigenous origins.


Defy time as you explore Edmonton.
Fly Through the Past
Ever wonder what it's like to sit inside a Cold War jet fighter? Well, you can cross it off your bucket list after visiting The Alberta Aviation Museum. Discover why Alberta has been deemed the "Gateway to the North". The museum showcases the incredible progress of technology and the culture of flight through informative tours, rare artefacts and interactive exhibits. Ask about the time when Edmonton Mayor Joe Clarke threw the opening pitch for a baseball game. It may be worth mentioning that he did so from the passenger seat of 'Wop' May's airplane as it flew over the field and then under the High Level Bridge.
All Aboard!
You can take a ride across the same 100-year-old bridge that 'Wop' flew under in a beautifully refurbished streetcar dating back to the early 1900s. Each streetcar in the Edmonton Radial Rail Society's fleet has its own unique history and are all refurbished from different parts of the world, with names like Osaka #247 or the ex-Melbourne tram #930. Get off at any stop you want and keep returning until you've ridden them all! The High Level Bridge Streetcar takes you right from the downtown Edmonton over to one of Edmonton's most historic neighbourhoods, Old Strathcona.

[NOTE: The High Level Bridge line operates daily from May - September]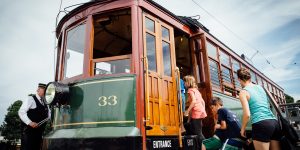 A Land Before Time
This is one Dino-mite adventure that the kids won't ever stop talking about. Visit Jurassic Forest, located just 15 minutes outside of Edmonton, and witness life-size and startlingly realistic dinosaurs in this prehistoric preserve. Visitors can enjoy guided safaris, observe dinosaurs in action, dig for ancient remains and explore 2 km of discovery trails through an old-growth forest.


[NOTE: Jurassic Forest is open during the summer season from early May until mid-October]
Part of Alberta's Heritage
Any historic itinerary wouldn't be complete without a visit to the Ukrainian Cultural Heritage Village. Explore over 30 historic structures that depict the history of east central Alberta and tell the story of Ukrainian immigrants who settled in this region in the late 1800s to early 1900s. Interact with costumed role players who re-enact the historic routines and activities of real-life Ukrainian pioneers. Sample fresh baked goods from a traditional pich (clay oven) or watch a blacksmith at work in his forge. Then, play a game of horseshoes with the kids or help a farmer tend to his heirloom garden.

[NOTE: UCHV is open seasonally from the May long weekend to Labour Day in September.]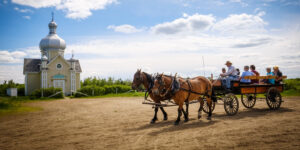 Historic Hauntings
The funny thing about history is we rely on stories passed down from those who are no longer with us... or maybe they are? Take an Edmonton Ghost Tour and explore your supernatural side. Be sure to keep your eye out for otherworldly sightings—there are more than a few stories about spirits that have been haunting Edmonton's neighbourhoods!