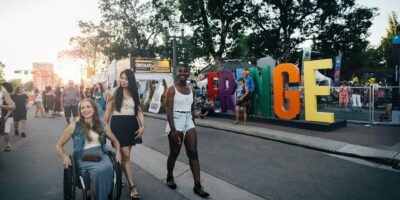 Edmonton Fringe Festival
Experience dynamic, innovative theatre during North America's biggest and oldest fringe festival.
August 17 – August 27, 2023
Time

Street Address

Old Strathcona and Whyte Avenue, Edmonton, Alberta
Experience a cultural blast of dynamic and innovative theatre performances during North America's oldest and largest fringe festival located in the heart of Old Strathcona.
With nearly 1,600 local, national, and international artists, Edmonton's Fringe Festival™ offers more than 1,200 indoor performances across some of the city's most iconic landmarks, such as ATB Financial Arts Barns, Varscona Theatre, and Walterdale Playhouse. Whether a play is on a main stage or a more unique venue, such a local pub or bookshop, there is something for everyone. Fringe even has special family friendly performances and Theatre for Young Audience shows.
And, when you're not at a show you can take advantage of many outdoor activities, such as live performances on one of their three outdoor stages, buskers pitching acts across site, or KidsFringe – an entire park of activities dedicated to families with newborns to tweens.
There is no other festival like Fringe, so don't miss your opportunity to soak up the creative juices spilling forth from Old Strathcona in August!