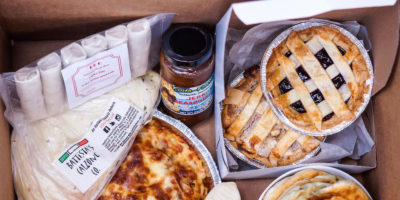 Eats on 118
Tempt your taste buds and celebrate local businesses along Alberta Avenue!
March 1 – March 31, 2021
Time

Street Address

Alberta Avenue (118 Avenue), Edmonton, Alberta
Eats on 118th is an event that celebrates local businesses along Alberta Avenue! All participating restaurants are offering a special that costs between $15-$25 for the entire month, so come try some tasty eats.
For foodies who wish to stay at home, Eats on 118 is offering Tour & Taste Boxes conveniently delivered straight to your doorstep via Plaza Bowl Delivery. Each box will feature tasty items from Alberta Avenue restaurant partners including Green Onion Cake Man, T & D Noodle House, Battista Calzone, Two Brown Dogs Catering, Coliseum Pizza & Steak and more. Boxes are $65 and available for preorder starting February 24.
No matter how you explore, be sure to continue practicing safe spatial distancing, frequent hand washing and following the guidelines put in place to keep everyone safe!