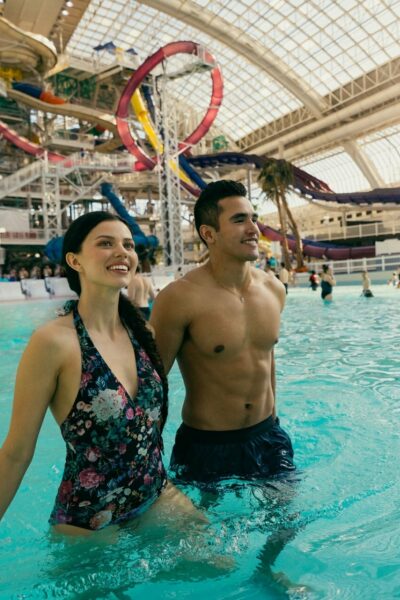 West Edmonton Mall: Fun Facts & History
With an average number of 30.8 million people visiting every year, West Edmonton Mall (WEM) shows no sign of slowing down! Here's a peek into the much-more-than-just-a-shopping-centre's history, from opening in the 80s to present day, plus some factoids you can impress your friends with.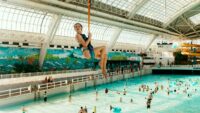 Back in the 70s, a Persian family with a vision took the shopping centre concept and expanded it well beyond retailers to become an immersive experience like no other. The mall featured attractions, services, hospitality, and mixed-use entertainment, with no idea too far-fetched, and the goal was to have WEM be a truly world-class destination.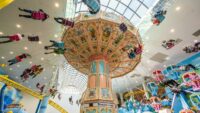 1981 – Phase One: WEM opened to international applause and media coverage as the world's largest mall.
1983 - Phase II Expansion: This included Galaxyland (known then as Fantasyland), an indoor amusement park complete with roller coasters, rides, mid-way games and more, as well as the Ice Palace. Kids and adults could skate year 'round, and the Edmonton Oilers occasionally practiced there for public enjoyment!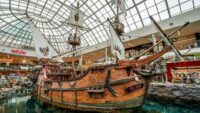 1985 - Phase III Expansion: This included the World Waterpark – waterslides, a wave pool, and a tropical environment meant you could have a beach day in January! The indoor lake with The Ship (known then as the Santa Maria) also opened including the Deep Sea Adventure submarine ride (now closed), dolphin lagoon (now sea lions) and Sea Life Caverns. You could keep your putting polished year 'round at Professor Wem's Mini Golf (known then as Pebble Beach Golf Course), and Europa Boulevard was like shopping in Europe with the high-end boutiques to boot. Bourbon Street was buzzing with restaurants and bars, and still is.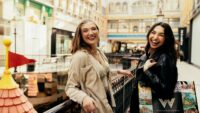 1986 - Fantasyland Hotel opened – with many themed guest rooms and suites, it was aptly named. You could sleep in a tropical paradise Polynesian style room with bamboo and palms aplenty, or lounge like the ancient Romans did amidst marble columns, carved busts and luxurious soaker tub fit for Caesar himself.
1999 - Phase IV Expansion: This included a huge HMV store (now closed), Indigo, and Scotiabank Movie Theatre (known then as Famous Players Silver City and featuring the fire-breathing dragon).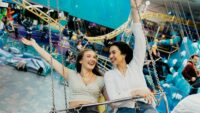 • WEM is 5.3 million square feet – North America's Largest Shopping Centre is the size of a small city and is accredited as a zoo!
• WEM has over 800 stores and services, 100 places to eat, 2 hotels, and 12 attractions.
• Here lies the world's largest parking lot – 20,000 parking spots and 10,000 overflow parking spots.
• WEM has North America's first multilevel indoor go kart track.
• Canada's only Hasbro Theme Park is in Galaxyland.
• The Ice Palace is NHL regulation sized!