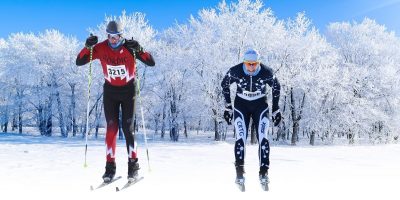 Canadian Birkebeiner Ski Festival
A classic Nordic adventure, Edmonton style!
February 12 – February 15, 2021
Time

Street Address

Ukrainian Cultural Heritage Village to Elk Island National Park, Alberta
Grab a thermos of hot cocoa and come cheer on more than 1,400 cross-country skiers as they whip around the loppet at speeds of over 20 km/h! The Canadian Birkebeiner is Canada's largest classic cross country ski event and takes place the second Saturday of February every year. If you want to get in on the action, trade in your hot cocoa for a set of skis and take on the Birkie yourself—don't worry, there are events for all levels of skiers. Feel the rush as you glide across the final stretch of track before falling into a blanket of white snow. The fatigue only lasts an hour or so, but the sense of accomplishment and appreciation for one of winter's oldest sports will last forever!

Can't travel but still want to experience the Canadian Birkie? Now you can go at your own pace, at your own place! You are invited to join thousands of people around the world skiing the Canadian Birkie virtually. Details here