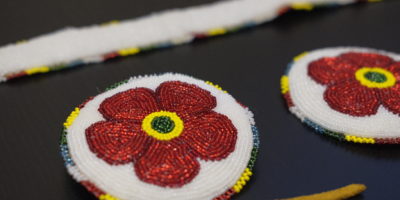 Wase Saba (Black Bear) Experiences
Discover Indigenous culture through an authentic & immersive experience.
Contact Information
Street Address

Various locations around Edmonton, Alberta
Lace up your dancing shoes and follow Sissy Thiessen to the Powwow Circle for a culturally immersive to learn more about Indigenous history, awareness, dance, storytelling and much more! Sissy Thiessen is a Treaty 6 Nakota Sioux, Cree & German Indigenous cultural facilitator, Powwow dancer, crafter/beader, spoken word poet and creative writer with family roots in Alexis Nakota Sioux Nation. Join Sissy as she celebrates her culture through this one of a kind Indigenous Powwow Dance Experience in which guests can experience an authentic dance performance, Powwow education & stories of origin, handle real beadwork and partake in a group round dance!

Book now to start your grand entry into the education of the art, ceremony & craft of Powwow. Check out Sissys' website to learn more about and book other experiences she offers!

Photo Credit: Indigenality_photography by Cole Richards on Instagram.