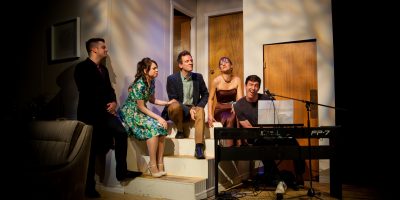 Varscona Theatre
Everything a neighbourhood theatre should be.
The bustling home to a cluster of wildly different performance companies, the Varscona is everything a neighbourhood theatre should be. And more. Diverse, versatile and bursting with creativity, the Varscona Theatre is an approachable theatre space in Edmonton's historic Old Strathcona district. The re-purposed former fire hall was significantly renovated and reopened in 2016 as a larger and much more modern playhouse.
The theatre's year-round playbill is stuffed with comedies and Euro-style cabaret, musicals, drama and epic improv performed by a consortium of small resident theatre companies like Oh Susanna!: The Shadow Theatre's gigs are contemporary productions for adult audiences while The VIP Kids Show is all about children's entertainment. Teatro la Quindicina's Edmonton-based actors have spent more than three decades presenting original stage productions, and unique Die-Nasty is a long-running improvised soap opera.