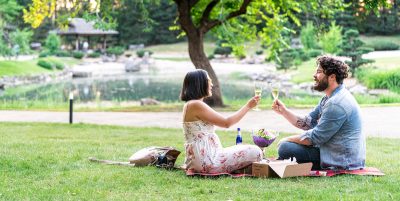 A must-visit for lovers of gardens and beautiful things. With 80 acres of display gardens (and 110 additional acres of natural areas and ecological preserves), there's tons to explore!

In the Tropical Plant and Butterfly Greenhouse, walk amidst a lush and magical tangle of vegetation from humid tropical environments, including beautiful orchids and climbing vines, then gaze in wonder as stunning butterflies flutter around the space. Or wander through the five-acre Kurimoto Japanese Garden, one of only a few Japanese gardens established in northern latitudes. Discover how the open stroll-style garden is designed to harmonize with the natural landforms and vegetation, and feel a renewed sense of peace and serenity.

Explore further... walk through the diverse and colourful peony collection. Marvel at the attractive and unusual succulents in the Bromeliad Greenhouse. Gaze at the elegant Primula Dell, with its English-style herbaceous perennial beds and borders. Find an area of quiet beauty at the Native People's Garden, a two-acre retreat displaying herbaceous plants used by the first people of Alberta. Come back throughout the year to see the changing colours and foliage, and witness the marvel of nature, meticulously maintained.

Tip: Don't miss the new Aga Khan Garden—4.8 hectares of modern architectural beauty inspired by Moghul traditions, and designed for the Edmonton region's climate and topography. The garden also offers romantic picnic packages for two during the warmer months - perfect for a special outing with a special someone.