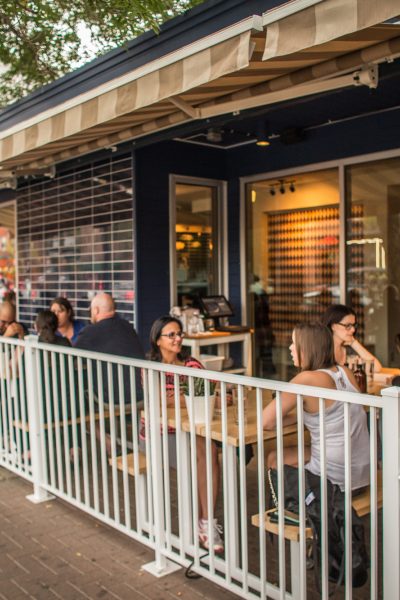 Kid-Friendly Restaurants in Edmonton
Dining out with the entire herd in tow can be tricky… but it doesn't have to be. We've got your guide to the top independent family and kid-friendly restaurants in Edmonton. Load up the mini-van and get ready to make memories over a delicious meal with the ones that matter most.


As your favourite restaurants begin to reopen, be sure to continue practicing safe spatial distancing, frequent hand washing and following the guidelines put in place to keep everyone safe! We also recommend checking the individual restaurant websites for updates on dine-in availability, curbside pick-up and more.
Go on, let the kids decide.
Ok, who doesn't love pizza? Especially when it's this good. LovePizza is a fast-casual, family owned & run restaurant that uses only quality ingredients. You can choose from their signature pizzas, or even build your own from their impressive list of fresh ingredients. Everybody's happy.
Kids will love: The Captain Cook Pizza.
Otto welcomes everyone with open arms— seriously, the warm atmosphere and friendly staff here can't be beat. This restaurant focuses on artisan sausages, and boy, are they tasty. The food is served family-style (perfect for sharing) and the offspring will enjoy yummy side dishes like the mac & cheese.
Kids will love: Pinocchio ice cream for dessert.
Located in the beautiful Strathearn neighbourhood, Juniper Café offers seasonal, homemade eats that will please adults and young ones alike. They even have a kid's charcuterie plate with carrot and celery sticks, lemon garlic aioli, cheese, and crackers. A casual (and delicious) spot for breakfast, lunch, or dinner.
Kids will love: The "Little Ones' Breakfast" (waffles with bacon and maple syrup).
The fam jam will love the authentic BBQ experience at MEAT. Their dishes are perfect for sharing, and come with unbeatable homemade sauces. Their pulled pork, smoked chicken, brisket, and ribs are the stuff carnivores dream of, and the sides pack a punch as well.
Kids will love: The Cornbread Skillet.
Dinner is better when we eat together.
Get your caffeine fix in this family-friendly café that offers up cozy seating and lighter fare. Woodrack has a tasty assortment of baked goods with many gluten-free options too. Simple comfort food will please everybody, while coffee from Ace, Roasti Coffee, and Oso Negro will help the adults to refuel. They even have an awesome book exchange!
Kids will love: French Onion Dip & Wavy Potato Chips.
Cafe Bicyclette, a friendly neighbourhood café in the French Quarter, serves up a delightful assortment of baked treats and savoury mains. The beautiful patio stays open in the winter (you heard that right), and is the perfect spot to share one of the city's best poutines with loved ones. C'est magnifique!
Kids will love: Focaccia bread with creamy gouda and watermelon.
Edmonton's first cat café is maybe the most unique spot on this list, and is the purr-fect place to spend an hour on two surrounded by some furry friends. Cat Cafe on Whyte serves a variety of specialty drinks and sweet treats from local Edmonton bakeries and kids are welcome at all times (those ages 6 and under must stay in the lower lounge).
Kids will love: petting the cute kitties!
Little Brick is a charming cafe in a 1903-built brick house located in the heart of the river valley and a much-loved spot for foodie families who love delicious cups of caffeine. Whether you find a spot in the living room, dining room, or at a picnic table in the backyard, you'll feel like you're sitting in an old friend's home.
This laid back, family-run joint serves up some of the best authentic Vietnamese street food in the city. Pho Boy also has high chairs and colouring activities so you can bring along the whole family. To top it all off, a lot of their food is also gluten-friendly, including their rice-paper wrapped spring rolls. Is your mouth watering yet?