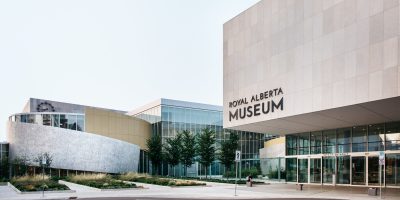 Royal Alberta Museum
82,000 square feet of history.
The Royal Alberta Museum is Western Canada's largest museum, bringing you more than 82,000 square feet of exhibition space, and housing a large and wide-ranging collection of artifacts to foster wonder, inquiry and understanding about Alberta. Pull the curtain back on Alberta life and landscape in a remarkable journey from petroglyphs to prehistoric dinosaurs, and from 500 generations of First Peoples to new beginnings on the windswept prairies. Plan your visit today!

Located in the Arts District in downtown Edmonton, this diverse museum collects, preserves, researches, interprets, and exhibits objects and specimens related to the heritage of Alberta's people and natural environment. The museum's expansive permanent galleries feature engaging exhibits complemented by internationally touring features. The wide ranging collecting and research activities support exhibitions, outreach and learning programs.

The museum first opened to the public on December 7, 1967, and soon became an important destination for Albertans and visitors from around the world. In 2005, the museum was renamed the Royal Alberta Museum in honour of Queen Elizabeth II, who visited Alberta that spring. In 2018, the RAM moved into its new 419,000 square foot facility in downtown Edmonton. The new museum is more than just a thoughtful, beautifully designed space; it's an authentic reflection of where Alberta is today and will be in the decades to come. It represents the new energy of Alberta, the diversity of the province's culture and tells the Alberta story with a new boldness and confidence. It's a place where you'll find 2.4 million uniquely Albertan stories just waiting to be told. With twice as much space as the former location, expanded permanent galleries, and a brand new experience for visitors of every age—you'll be able to feed your curiosity year round!

When you visit the Royal Alberta Museum, you are only steps away from the Art Gallery of Alberta, Citadel Theatre, Winspear Centre and Churchill Square. Make a day of it and add these inspiring nearby attractions to your itinerary.