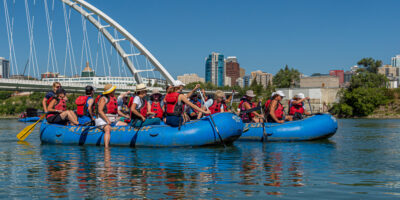 RiverWatch – Summer EcoFloats
Guided urban river experiences.
Contact Information
Street Address

The RiverWatch Institute of Alberta - 17008 90 Avenue, Edmonton, Alberta
RiverWatch's Summer EcoFloats in Edmonton offer guided urban river experiences – float down the North Saskatchewan River while taking in stunning scenery and learning about the river's history, culture, biodiversity, and stewardship! With professional River Guides leading the way, you can expect a safe, fun, and personalized experience. Take on a daytime float for your family, or a weekend or weeknight (dusk) experience, RiverWatch has you covered. Looking for a truly unique experience? Try a date night floats, private romance floats, or a weekend meditation float! Floats typically last four hours and take place between May-September.