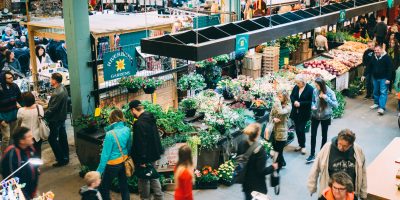 Old Strathcona Farmers' Market
Edmonton's largest year-round indoor farmers' market.
The Market began in 1983 in the parking lot on the corner of 83rd Ave and 103rd Street, outdoors with only 10-15 vendors selling a small variety of garden products, baking and crafts. In 1986 the market moved inside to the "Old Bus Barns" on Saturdays. The underlying philosophy of the market which is still used today was introduced, "We Make it! We Bake it! We Grow it! We Sell it!" The market rotates a roster of nearly 300 vendors through 185 stalls. On any given Saturday there are over 130 vendors selling only locally produced, handmade products.