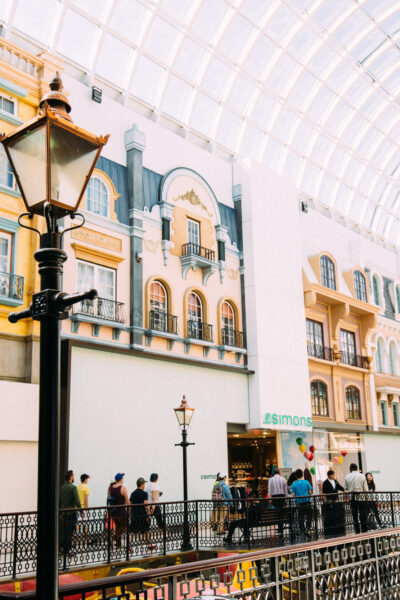 Your Back-to-School Shopping Guide
Sharpen those pencils and pack those lunches – it's time to head back to school! Every summer, thousands of people flock to Edmonton for back-to-school shopping. The best part of a new school year is new outfits, and we've chosen some of the best spots in the city to find your new look. Of course, West Edmonton Mall is a one-stop shop with the equivalent of 48 city blocks of shopping, dining, and entertainment. But there are many other great shopping destinations local to Edmonton to add to your itinerary.
After hitting the mall, enjoy some sunshine and fresh air in one of Edmonton's key walkable areas that are sprawling with local shops to find something unique! After all, no one likes to see their favourite shirt being worn by three other people. For one-of-a-kind clothing and accessories that your friends won't find anywhere else, pop into Edmonton's locally owned shops in three bustling districts:
Old Strathcona
Whyte Avenue in Old Strathcona is incredibly popular amongst the independent dressers.
Favourite Old Strathcona Edmonton Originals
124 Street
124 Street is loaded with artisan shops, boutiques, and restaurants once you've worked up an appetite!
Favourite 124th Street Edmonton Originals
4th Street Promenade
4th Street Promenade and the surrounding historic warehouse district is home to more great locally owned shops.
Favourite 4th Street Promenade Edmonton Originals
Apollo Originals is a premium clothing and lifestyle brand found in the Mercer Building.
Cut Up Cotton sells upcycled clothing created out of garments sourced from local thrift stores, to divert textile waste associated with clothing manufacturing.
For guys who like to step up their fashion game, check out The Helm near 104th.
Outlet Malls for Days
Who doesn't love a good deal? The discounts are plentiful at Edmonton's two outlet mall hubs: South Edmonton Common and the Premium Outlet Collection near Edmonton International Airport. These are great areas to score a killer deal before heading home from your shopping adventure. Scoop up a designer bag and some new threads at a fraction of the cost!