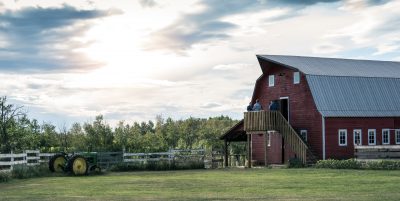 Old Red Barn
Discover a true farm-to-table experience!
The Old Red Barn was formally used over 20 years ago as a milking barn for dairy cows. It was brought life again in 2017 with a new purpose: farm-to-table dinners. Rustic handmade tables, original wood beams and elegant chandeliers give the barn a timeless feeling. The two giant sliding windows of the barn give guests the opportunity to overlook the farm, and watch the dairy cows & horses graze under the setting sun.
The barn is located 7 minutes southwest of Leduc, AB. Here, you'll be able to take-in Farm to Table Dinners - an intimate dining experience. These unique dinners take place outdoors on the veranda, or in the upper loft of the1950's gambrel barn. Overlook tranquil Whitemud Creek and picturesque farm fields as you enjoy your meal. Their vision is for all visitors to trust and prefer Canadian-made food products and to buy them from their local farmers.
The Old Red Barn is passionate about supporting local farmers and telling their stories. Meet the farmers, learn how food gets from farm to fork and leave feeling reconnected to where your food comes from!