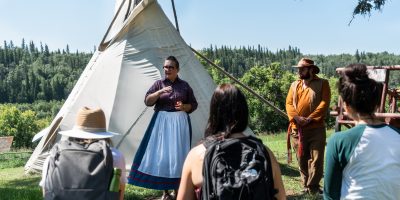 Metis Crossing
Celebrate the story of the Métis!
Métis crossing celebrates the story of the Métis through traditional crafts, tours, and food experiences. Take their Paddle into the Past voyageur canoe experience, or enjoy tours of their museum, historical village, indoor meeting area, outdoor stage and more! Here you'll also find a campground and traditional trapper tents to rent for a cozy, cultural stay.
Métis Crossing is the first major Métis cultural interpretive centre in Alberta. This incredible facility mirrors the core values of the Métis community including self-sufficiency, respect of elders, participation of youth, and cultural pride. The one-of-a-kind attraction encourages visitors to participate in activities that promote appreciation of the people, customs, and celebrations.
While Métis Crossing is closed for the season, watch out for their grand re-opening in the summer of 2020. The brand new centre will incorporate traditional craftsmanship with modern materials to create a stunning structure that hints at the building style of the fur trade era river lot homes, with the functionality of a contemporary place to gather, learn, and share the Métis story.

Note: Metis Crossing is closed for the season and will re-open in the summer of 2020.