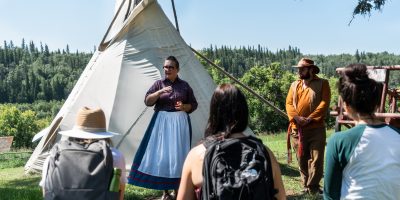 Metis Crossing
Celebrate the story of the Métis!
Contact Information
Street Address

17339 Victoria Trail, Smoky Lake, Alberta
Métis Crossing celebrates the story of the Métis Nation of Alberta through traditional crafts, tours, and food experiences in Alberta. Take their Paddle into the Past voyageur canoe experience, or enjoy tours of their museum, historical village, indoor meeting area, outdoor stage and more! Here you'll also find a campground and traditional trapper tents to rent for a cozy, cultural stay.

Look no further for an immersive winter experience. Tales from the Trapline is a 4-hour Indigenous experience that explores Métis traditional winter activities and skills on a historic Métis River Lot Farm. Strap on a set of snowshoes, set a snare, build a survival shelter, and learn a traditional art as you create your own unique and beautiful keepsake.

Métis Crossing is the first major Métis cultural interpretive centre in Alberta. This incredible facility mirrors the core values of the Métis community including self-sufficiency, respect of elders, participation of youth, and cultural pride. The one-of-a-kind attraction encourages visitors to participate in activities that promote appreciation of the people, customs, and celebrations. Learn traditional Métis art from teachers and knowledge holders who host classes using traditional materials, beading, and jewellery making techniques.

Executive Chef Brad Lazarenko is working to create a Métis culinary experience to wow all of your senses. With a philosophy of land to table eating, Chef Brad's experience and promotion of Indigenous cuisine is a vision shared at Métis Crossing, and reflected in the culinary programs and delicious offerings. Guests will be able to enjoy everything from a quick lunch to a truly uniquely delightful dinner experience, to a full service banquet – all with flavours coming from the lands in and around Métis Crossing.

What's New & Coming Soon at Métis Crossing


The Lodge at Métis Crossing
The 40-room lodge designed by Métis architect Tiffany Shaw-Collinge provides a boutique experience with spectacular views of the North Saskatchewan river, once a gathering spot for Métis ancestors. Each room is curated by a Métis artist and features traditional art and storytelling. The beds each have a hand sewn quilt made by women from the New Dawn Métis Women's Society, which guests have the option to purchase at the end of their stay!
The Visions, Hopes and Dreams Wildlife Park
The Visions, Hopes and Dreams at Métis Crossing Wildlife Park is a partnership between Lonesome Pine Cattle Co. and Métis Crossing. On September 25, 2021, The park welcomed the return of Woods Bison, Plains Bison, White Bison, Elk, White Elk, and Percheron horses to the traditional Métis Lands at Métis Crossing. This represents an important step towards reconciliation as these Indigenous and non-Indigenous equal partners collaborate to welcome the return of traditional heritage species to traditional Métis lands. This winter visitors can expect a variety of tours through the wildlife park that explain the historical significance of the animals in Métis culture.
Cross Country Ski Trails
Olympic skier Beckie Scott, Olympic gold and silver medallist in cross-country skiing, has developed three cross country ski trails at Métis Crossing. Her charitable organization Spirit North, uses land-based activities to improve the health and wellbeing of Indigenous youth, empowering them to become unstoppable in sport, school and life.

Whispers from the Stars
This winter, Métis Crossing will launch Whispers from the Stars – evening programming for guests to discover the Indigenous storytelling through the night sky. While staying at The Lodge at Metis Crossing, guests can enjoy food from the café which features traditional Métis food like Bannock and buffalo stew, and other delicious dishes inspired by seasonal ingredients foraged from the land. The café menu was developed by Brad Lazarenko, a Métis chef from Edmonton.